Alfonso XIII, Seville
Five-Star Gran Lujo Hotels in Andalucia
Andalucia has 16 five-star Gran Lujo (GL) hotels in Malaga, Cadiz, Granada and Sevilla
Gran Lujo means Grand Luxury and represents a level of service and facilities in excess of the five-star rating. Some hotels around the world use the term "six-star" to denote an establishment which is another level above a five-star.  
In Andalucia, the hotel star-rating system is overseen by the Consejeria de Turismo (actually Consejería de Turismo, Regeneración, Justicia y Administración Local) of the Junta de Andalucia (regional government's Ministry of Tourism and Sport). A new hotel star rating system was published in May 2020 (Decree 13/2020 and 14/2021), long overdue since it had remained largely unchanged since 1984.
The 'new' or 18th May 2020 leglislation retains the one to five stars system however for hotels and aparthotels it is based on a points system from the assesment of 301 different and wide ranging criteria, rather than a list mandatory requirements for each star rating.A 1-star hotel needs 180 points up to a five-star hotel needing 650 points. There is a five year transition period in which all the hotels, aparthotels, hostals, pensions will need to carry out an assesment under the new criteria and apply for their stars under the 2020 system. The law also creates a new category 'alberges' (hostels) which can offer beds rather than rooms. Read more about Andalucia Hotels Star Rating
A Gran Lujo classification was only for five-star hotels that have been "declared Gran Lujo by the Consejería de Turismo y Deporte for exceptional conditions with respect to their installations, equipment and service". The 2010 revised legislation stated that the Consejería de Turismo y Deporte would establish the conditions for Gran Lujo, but this has never been done. This made it difficult for the hotel industry to plan, build a new five star GL hotel.   
The 2020 legislation finally defines 57 criteria with a separate points system. In other words to be awarded a five-star GL the 5-star establishment needs an an additional 150 points from the 57 GL criteria. Hotel Miramar in Malaga was the first hotel (and so far only) to be awarded under the new definition.
Industry issues aside, we list below the 16 current five-star GL hotels in Andalucia. One or two, in our humble opinion, do not merit inclusion, and there are some apparent omissions. Please also check our famous hotels in Andalucia listing for the region's most iconic establishments.
The following five star gran lujo hotels are selected from our affiliate partners.
5 star GL Hotels
Book 5* GL Hotels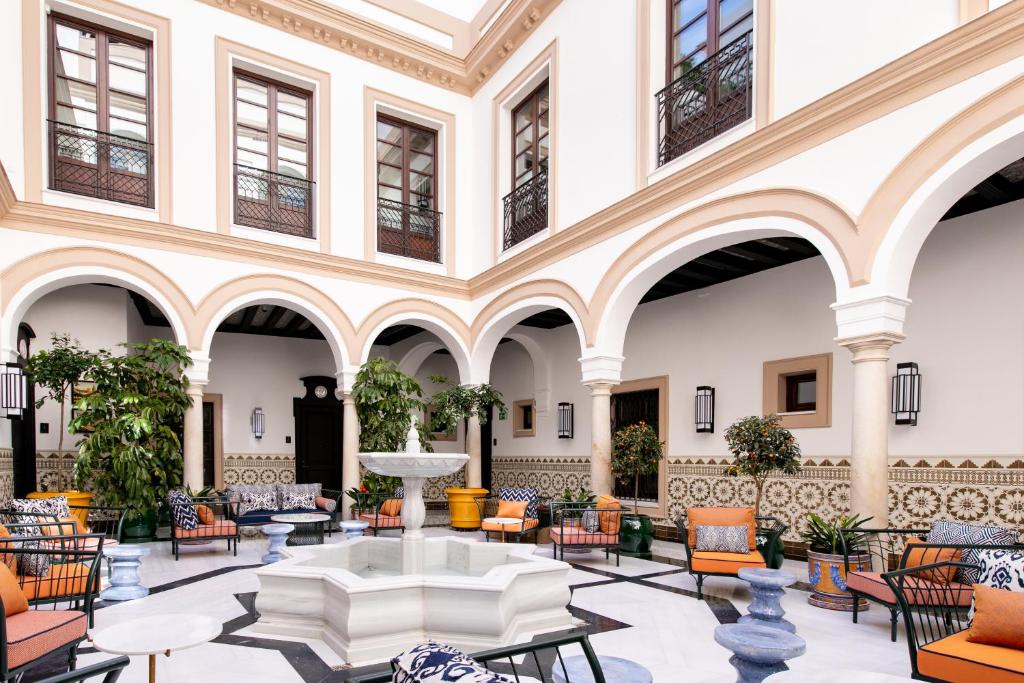 Hotel Casa Palacio Don Ramón
Hotel Casa Palacio Don Ramón features a seasonal outdoor swimming pool, shared lounge, a restaurant and bar in Seville. This 5-star hotel offers a concierge service and a tour desk. The accommodation provides a 24-hour front desk, airport transfers, room service and free WiFi throughout the property.
Cavalata Boutique Hotel - Triana Sevilla
For the first time, Seville is having a 5* GL hotel 'on the other side of the river', in Triana. It will be the Cavalta Boutique Hotel, which is housed in a historic building where the architectural value has been carefully preserved. The owner, Audentis Gestion, will take over the management. Opening on 10th April 2023
hotel reviews
Read our hotel reviews