Two-Star Hotels in Andalucia
In Andalucia, the hotel star-rating system is overseen by the Consejeria de Turismo (actually Consejería de Turismo, Regeneración, Justicia y Administración Local) of the Junta de Andalucia (regional government's Ministry of Tourism and Sport). A new hotel star rating system was published in May 2020 (Decree 13/2020 and 14/2021), long overdue since it had remained largely unchanged since 1984.
The 'new' or 18th May 2020 leglislation retains the one to five stars system however for hotels and aparthotels it is based on a points system from the assesment of 301 different and wide ranging criteria, rather than a list mandatory requirements for each star rating.A 1-star hotel needs 180 points up to a five-star hotel needing 650 points. There is a five year transition period in which all the hotels, aparthotels, hostals, pensions will need to carry out an assesment under the new criteria and apply for their stars under the 2020 system. The law also creates a new category 'alberges' (hostels) which can offer beds rather than rooms. Read more about Andalucia Hotels Star Rating
On top of basic facilities, you can expect to find extra amenities and services such as laundry service and slightly larger rooms than in one-star hotels.
Prices are generally low and offer good value for money; precise offerings in terms of facilities and services will vary for each hotel. The minimum bedroom size is 14m2, and reception must be attended until 8pm.
Two-star boutique hotels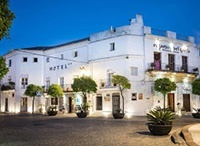 Vejer's landmark hotel, which since its founding in 2001 has become a favourite place to stay in Andalucia for travellers and Spaniards alike. The Califa's origins date back to the 10th century. An ideal place from which to explore the Atlantic Costa de la Luz and the 'Sierras' of Cádiz.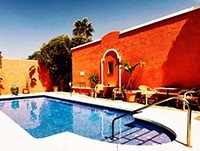 A charming small hotel with pool near Cape Trafalgar. The Hotel Madreselva is situated just a one minute walk from the main beach of Los Caños de Meca. One-level building built 'hacienda' style, with all the rooms centered around a lush plant-filled courtyard.
Two-star Hotels
Book Two-star Hotels
Two-Star Hotels in Malaga Province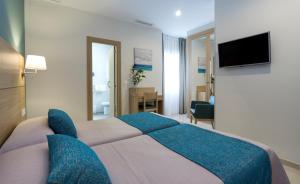 Hotel Sur Málaga
Hotel Sur Málaga is situated in central Málaga, a short walk from the Picasso Museum and Atarazanas Market. This elegant hotel offers a lounge area and free Wi-Fi in all rooms. Rooms at Sur feature a classic design and come with satellite TV.
N.Ch
N.Ch is situated in the charming historic centre of Torremolinos, just 350 metres from Bajondillo Beach and 50 metres from San Miguel Street. It offers air-conditioned rooms with free WiFi. The hotel's simple rooms offer a TV and a private bathroom.
Hostal Marissal
Hostal Marissal is set next to Nerja's famous Balcón de Europa Viewpoint, between the beaches of Salón and Calahonda. It offers air-conditioned rooms with a balcony, safe and free Wi-Fi. The Marissal Guest House is in the centre of Nerja, a typical Andalusian town with whitewashed houses and narrow streets.
Two-Star Hotels in Seville Province
La Abadia de Giralda
Hostal Giralda Sta. Cruz is situated in the heart of the Santa Cruz neighbourhood, 100 metres from the Giralda and Cathedral in Seville. It has air-conditioned rooms and 24-hour reception with a tour desk. All areas of this charming 18th-century building are covered by free WiFi.
Un Patio al Sur
Be thrilled by this magnificent, 18th-century, Andalusian building – a recently renovated, authentic townhouse which boasts original features, a rooftop terrace and a privileged location near many of Seville's most impressive sights. The delightful Patio al Sur, once a convent, has been converted to a beautiful, boutique hotel.
Two-Star Hotels in Granada Province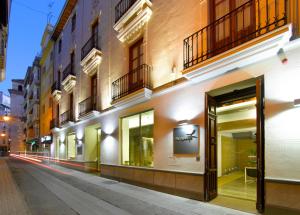 Hotel Párraga Siete
A 25-minute walk from Granada's Alhambra, Hotel Párraga Siete is set in a charming 19th-century building in the old town. It offers stylish rooms and an à la carte restaurant. Each spacious, air-conditioned room at Hotel Párraga Siete has attractive, contemporary décor.
Hostal Rodri
Hostal Rodri is located in Granada's old town, 5 minutes' walk from Granada's Cathedral. It is surrounded by shops, lively bars and restaurants serving Spanish tapas. Free Wi-Fi is available. All air-conditioned rooms come with flat-screen satellite TV and a private bathroom with hairdryer.
Two-Star Hotels in Cadiz Province
Hotel Argantonio
A charming hotel that is ideally located in the heart of the historic old town of Cadiz, which enraptures the traveller with its warm mix of Andalucian, colonial and classical styles. Bedrooms are uniquely characteristic, assuming one of the various styles (Andaluz, rustic or colonial) featured in the hotel.
Hostal Bahía
Featuring free Wi-Fi, Hostal Bahía offers accommodation in Cadiz's historic centre, 4 minutes' walk from the port and the train station. The air-conditioned rooms have a private balcony. All the rooms at Hostal Bahía feature a TV with cable channels.
Two-Star Hotels in Cordoba Province
Itaca Colón
This Itaca hotel is situated in the centre of Córdoba, just 500 metres from the Plaza de Colón Square. It offers spacious, modern rooms with private bathrooms. Free WiFi is available throughout the hotel. Itaca Colón's rooms feature marble flooring, air conditioning and heating.
Two-Star Hotels in Almeria Province
Hotel Embajador
Hotel Embajador is located just a 5-minute drive from Almería City Centre and the Train Station. It offers a 24-hour reception and free WiFi throughout the hotel. Air-conditioned rooms include a TV, work desk and private bathroom.
Two-Star Hotels in Huelva Province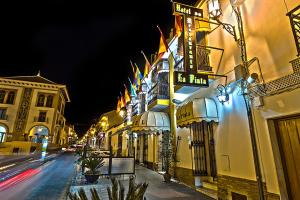 Hotel La Pinta
Hotel La Pinta is set in Lugares Colombinos, 15 minutes' drive from Huelva and Mazagón Beach. It offers a free Wi-Fi zone and air-conditioned rooms with flat-screen TV. Featuring tiled floors and rustic wooden furniture, rooms come with a work desk.
Two-Star Hotels in Jaen Province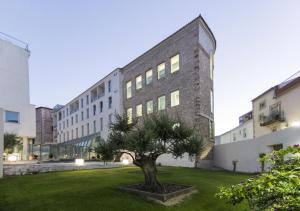 Albergue Inturjoven Jaen
lbergue Inturjoven Jaen is located 100 metres from La Magdalena Church in Jaén in Andalucía. It offers air-conditioned rooms, a 24-hour reception and games area. Staff at the Inturjoven's 24-hour reception can provide information about what to see and do in Jaén and the surrounding area.