Village Hotels in Andalucia
Here you will find a selection of hotels located in the numerous villages of Andalucia. Thanks to their location, guests at these hotels can enjoy strolls around traditional Andalusian streets, surrounded by quaint and well decorated homes typical of pueblos blancos (white villages).
While the size of these hotels may be smaller than those found in larger towns and cities, village hotels will still offer basic amenities and services like any other accommodation, except in a traditional and more rural Andalusian environment. In this sense, village hotels are a good choice for nature lovers and those who enjoy activities such as cycling and walking, as well as visiting historical and culturally significant places.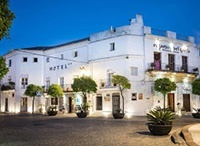 Vejer's landmark hotel, which since its founding in 2001 has become a favourite place to stay in Andalucia for travellers and Spaniards alike. The Califa's origins date back to the 10th century. An ideal place from which to explore the Atlantic Costa de la Luz and the 'Sierras' of Cádiz.
Plaza 18 is a six bedroom luxury hotel in the heart of Vejer's medieval quarter and adjacent to the palm-filled Plaza de España. Enjoy a tranquil stay in a house that feels like an elegant home, with panoramic views from the terrace and full use of the adjacent Hotel Califa's facilities.
Book Hotel Finca Cortesin