Historic hotels in Andalucia
The grande dame hotels of Andalucia offer an unmissable opportunity to experience the heritage of this beautiful and fascinating region, which breathes Moorish and Christian history.
When you walk through the doors of a historic hotel, you can almost sense the centuries of significant events its walls have witnessed. These very special properties, often with superb location, unique architecture and intriguing original features, are prized for their illustrious guests past and present, their fascinating stories, and all-important heritage in the context of their local environment.
The historic building may be a restoration, or even a complete rebuild using the original footprint and keeping the facade. Andalucia.com - like famoushotels.org - designates 50 years as a cut-off for inclusion in our list of historic hotels in Andalucia.
Hotel Inglaterra, Seville - 1850
Overlooking Plaza Nueva, the elegant historic Hotel Inglaterra is just 250 metres from Seville Cathedral. Its air-conditioned rooms feature classic-style décor, and include a private balcony. The rooms at Hotel Inglaterra have wooden floors and a safe.

Hotel Reina Victoria, Ronda - 1895
Overlooking Ronda's spectacular Tajo Gorge, the renovated Reina Victoria offers an outdoor pool, a spa, extensive gardens and an à la carte restaurant with panoramic views. Read more

Hotel Reina Cristina, Algeciras - 1901
Hotel Reina Cristina was originally opened in 1901 and houses ancient ruins, such as parts of an 8th-century Mosque and a Moorish well. It features indoor and outdoor swimming pools and has welcomed many famous guests over the years. Read more
Alhambra Palace, Granada - 1911
Alhambra Palace is located just outside the Alhambra's ancient walls, offering spectacular views over the city of Granada. It features stylish rooms with Moorish-inspired décor & free Wi-Fi. An à la carte restaurant serves Andalusian food. Read more

Alfonso XIII, Sevilla - 1926
One of Spain's most prestigious hotels, Hotel Alfonso XIII is located close to Seville's Real Alcazares (Royal Palace). It offers an outdoor swimming pool in a lush garden, gym and typical courtyard with fountain, as well as several restaurants and bars. Rooms are individually decorated. Read more
Malaga Parador de Golf - 1928
Located near the mouth of the Guadalhorce River and next to the San Julian beach it was constructed in 1925 and officially opened in 1928. It is the oldest golf course and golf complex on the Costa del Sol. Read more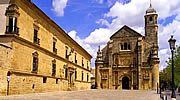 Parador de Ubeda - 1930
16th century renaissance palace in the heart of Úbeda. In 1930 became first historic building in Spain to be reformed a an hotel. Read more

The Rock Hotel, Gibraltar - 1932
This magnificent landmark hotel is situated just outside of Andalucia on the Rock of Gibraltar. Built in 1932, it is decorated in a colonial style, and its famous past guests include Sir Winston Churchill. Panoramic views of the Bay of Gibraltar can be seen from the hotel´s restaurant. Read more
Parador Alhambra Granada - 1945
The Granada Parador, also known as the Parador de San Francisco, has an enviable setting: it is located inside the world-famous Alhambra. Formerly a monastery, this beautiful, historic building with heavy studded wooden doors, leafy patios and arcaded courtyards is an ideal base for exploring the celebrated fortress, and is the closest hotel to the main attraction of the Alhambra: the exquisite Nasrid Palaces. Read more.
Marbella Club - 1954
This classy beachfront hotel is an institution in Andalucia's most glamorous beach resort, with a fascinating history and indeed cachet. Read more.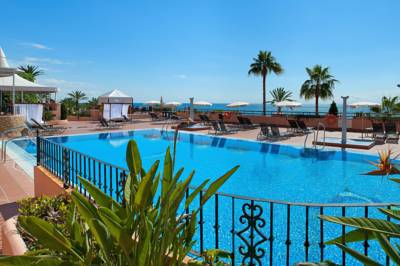 Hotel Fuerte, Marbella - 1956
Enjoys a superb beachfront location close to the old town meaning it is surrounded by shops and restaurants. Hotel Fuerte Marbella is surrounded by large gardens. There is a sports centre with a seasonal indoor pool, Turkish bath and sauna. Read more.

Hotel Pez Espada, Torremolinos - 1959
Overlooking the Mediterranean Sea, Pez Espada features an outdoor pool with direct access to La Carihuela Beach. Each of its rooms has a balcony offering side or full sea views. Read more.
Hostal Las Cumbres - 1969
Hostal Las Cumbres is conveniently located on the N-340 main road in Costa de la Luz, Cádiz. Although the Hostal has existed for 50 years it was refurbished in 2018 and has an interesting Miami-roadside-motel style, with a retro decor. It is good value for money and sits roughly 6 km from the beautiful beaches of the Costa de la Luz.
Hotels in historic buildings in Andalucia
The number of hotels in historic buildings around Andalucia has increased exponentially over recent years. In the towns and villages of Andalucia, many 18th-century  'señorial' houses, or casa-palacios (mansions), have been beautifully restored and converted into hotels full of history and character. The region is valuing and preserving its heritage, which is good news for both visitors and locals alike. More>