Nikki Beach Marbella
Nikki Beach Marbella opened in 2003 and comprises of a swimming pool with VIP beds on a raised deck, a large open air restaurant, a centrally located octagon-shaped bar, a Lifestyle Boutique and a VIP terrace with views of the Mediterranean Sea.

Located at the Don Carlos Hotel beach, 7 km from the centre of Marbella, Nikki Beach Marbella is famous for its designer luxury and jet-set sophistication. Nikki Beach has a network of branches in several worldwide destinations.

It boasts a large open air restaurant, a chiringuito, bars, boutiques, pool and a full programme of luxury day and night time events.
Nikki Beach MARBELLA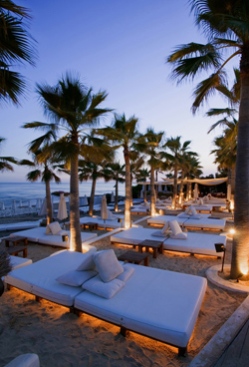 Nikki Beach
Nikki Beach Marbella is famous for its eclectic 'party' scene and regular events include Mojito parties, champagne contests, dinner and dance nights, full-moon parties, opening white parties, closing red parties with live music and entertainment nights, with various dancers, musicians and DJs.  
Situated on the beachside overlooking the med, Nikki Beach is a fabulous nightclub in one of Marbella´s classic locations.  A classic Marbella night club called 'Oh Marbella' was open at this location during the 1990's.
Nikki Beach is a open-air environment with fabulous tropical gardens and one of the first to bring white mattress and teak lounger beds to Marbella.  
Traditional Summer Opening Hours:
May & October - 11.00 to 20.00 hrs
June to September - 11.00 to 02.00 hrs (Weekends to 05.00 hrs)

Entrance for 18 yrs and over only.
Nikki Privé Marbella
Nikki Privé is a winter season daytime lounge introduced in 2016 with the expansive terrace with sea views. This Nikki Beach-style venue is open for Lunch seven days a week and features the brand's signature cuisine, entertainment and events. Nikki Privé's weekly events span Apéro Chic on weekday afternoons, Live Saturdays with performances by local bands and the all-day Amazing Sundays party. 
Lunch: Open 7 Days
Monday - Friday, Kitchen Open from 12.00 - 18.00 hrs

Dinner: Fridays
Friday Nikki Privé by Night - from 19.00 to 23.00 hrs
Entrance for 18 yrs and over only.
Location
Playa Hotel Don Carlos Carretera De Cadiz 29600 KM. 192, Marbella, Spain.
Tel: + 34 952 836 239 
Destinations