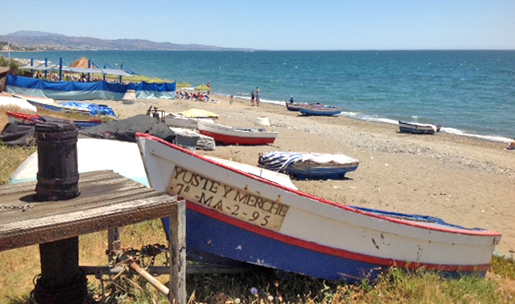 Playa Lindavista, San Pedro Marbella.
Playa de Guadalmina to the West.
Playa Lindavista
Playa LindaVista is in the San Pedro de Alcántara area of Marbella at the western end of the seafron promenade.
It is a very narrow beach, and quite small. The beach is accessible by road via the coppice of trees area that lies next to it.
To access the beach leave the coast road at km 170 and drive through the El Ingenio quarter of San Pedro and follwo signs for LindaVista area. There is ample parking in the wooded area, which also houses the ruins of an ancient Necropolis - La Basilica de Vega del Mar. There is also parking on the sand just behind the beach. 

At first sight, the area is a bit of a mess with the fishing boats and equiptment and winches to pull the boats up onto the shore, not to mention the caravans and huts. 
There are no facilities on the beach itself, many locals have family pic-nics in the shade of the trees.
 
CHIRINGUITOS
At the west end of Playa Linda Vista is wooden chillout Chiringuito Macaao just by Arroyo de Chopo and Restaurant El Ancla with its large swimming pool for guests. The best direct access to El Ancla is via Call Jose Echegarai.  

At the east end there are two beach bars, Guayaba Beach is a wooden chiringuito offering drinks, sardines, food, music is a semi tropical open surroundings. Sunbeds are an economic 4€ (2013). Next door is the upmarket Bora Bora with full restaurant facilities Prince William and Harry came with their protection officers to the Bora Bora beach in 1997 to ride on the jet skis. Princess Diana stayed at home in the Goldsmith's house in Banahavis. The best access to Bora Bora is from the Paseo Maritimo of San Pedro.
Playa de San Pedro de Alcantara to the east.
Destinations