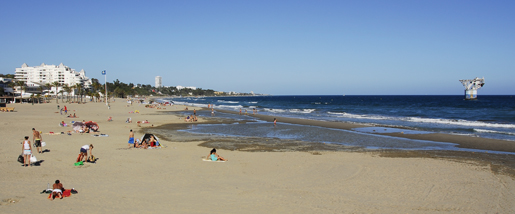 El Cable beach named from the cable way that used to run over it taking ore from the mines to the ships.
Playa Bajadilla is the Marbella beach to the west
Playa EL Cable
El Cable beach is approximately 400m long. It is situated to the east of the Fishing Port whose breakwater bounds the beach.
This beach is very busy as it is a popular destination for summer holiday visitors, it has slightly less Marbella glamour than other beaches in Marbella. It is a popular spot for younger people. It is a wide beach and does not have a paseo maritimo yet.  It is backed by the more light comercial side of Marbella and light industrial operations and car garages and showrooms.  

This beach itself has many different facilities including WC´s, showers, parasols, sun loungers and pedalos for hire. There are a number or beach bars and restaurants including Chiringuito El Cable, Cafe del Sol.  The beach is often awarded the Blue Flag for its high standards of cleanliness and excellent facilities. 
This beach takes its name from the overhead cable "El Cable Teleferico" runway that transported buckets of iron ore from the mines on the Sierra Blanca. If you look out to the sea you can see the anchor end of the line tower which was a pylon that used to support the cable and distcharge into ocean going ships. Untill 2005 there were two other pylons here. One in the sea, listing to such an angle that occasional dare devils would climb up and dive off. There was another pylon in the middle of the beach. They were demolished and removed. Here is a photo of the cable in operation showing another pylon next to the main road. It was taken shortly after the cable way was constructed in 1957. The cable way was built as an alternative to the port jetty which had become too small to take the larger ships. Prior to this ships had been loaded from an elevated iron muelle (jetty) like those conserved today in Huelva City and Almeria City. In 2017 the tower was cleaned and it was painted a nuetral grey, removing one of the last vestages in Marbella of the 'Gil era' blue and white. More>
Banana Beach is the Marbella beach to the east.
Destinations