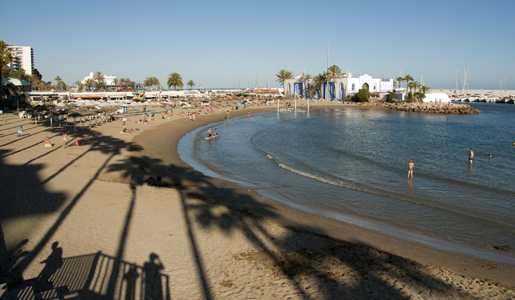 Playa El Faro is a small, busy beach to the west of Marbella Port.
Playa Fontanilla is the next beach to the west.
Playa el Faro
Playa el Faro is situated just to the west of Marbella Puerto Deportivo (marina) and enclised by the breakwater. It is a very small stretch of beach only 200m long and 30m wide and is very sheltered.
This is a very busy beach because of it´s convenient location in the centre of Marbella, close to a number of hotels and not far from the Old Town. The number of facilities surrounding this beach make it a very desirable location. This beach is very popular with families as it has a large children's play area (unsupervised) and the sea is shallow and sheltered providing calm waves and a safer environment for younger children.
It has all the usual facilities such as WC´s, showers, parasols and sun loungers.
There is parking, but it can be very busy at peak times, especially during summer. There are life guards monitoring this beach during summer. Water sports are available.
Venus of Marbella
In 1972 a sculpture of the Roman Goddess Venus on a water-ski was installed facing west on one of the jetties in front of Fuerte hotel by the then Mayor Francisco Canto. The work was by artist Francisco Fernández Burgos, a sculptor from Granada. The statue was placed on a large concrete support with a impressive water feature that represented the spray of the water ski on the sea. It was also iluminated at night. The bronze was seen as a symbol of modernity for Marbella at the time.
When the jetty was removed in the early 1990s, the Venus was relocated to the to decorate the Paseo Maritimo on a similar but less impressive water feature mount, infront of the tourist office behind Playa el Faro (west of the Puerto Deportivo). In 2022 following the reconstruction of a small jetty on Playa del Faro, as part of a beach erosion protection measure, the statue was restored and mounted here this time facing east looking towards the old town.
Playa La Venus is the next Marbella beach to the east.
Destinations