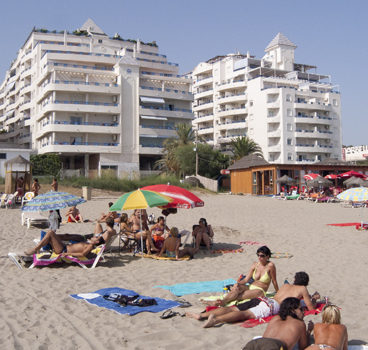 Playa el Cable is the next Marbella beach to the west.
Banana Beach
Banana Beach is the common unoficial name for the stretch of beach at the east end of Playa El Cable. This beach is popular with young people and a number of bars play music. It is referenced as being just down from the Marbella arch and there is some parking available. 

The name originates from a popular plot of land set aside in the early 1990's where live music was played and a number of beach bars were thriving, especially on a Sunday afternoon. It was very much a place to be. Times change and an apartment block also called Banana Beach was constructed on this land in the late ninetees.  Apartments in this block are much sought after as they is a front line luxury property. It has been at the centre of much controversy, over planning permissions due to its location; the proposed site of the would-be Marbella train station. 

There is a rought terrain car park with access from the petrol station by the Marbella Arch. On the beach is a chiringuito called Babaloo Beach. This beach bar has relocated from the other side of Marbella in an older urbanisation near Mistral Beach with was demolished to make way for newer apartments.

Banana beach is now backed by a boardwalk that form paft of the Senda Litoral de Malaga ( Malaga coastal footpath)  
Funny Beach is the next Marbella beach to the east.
Destinations