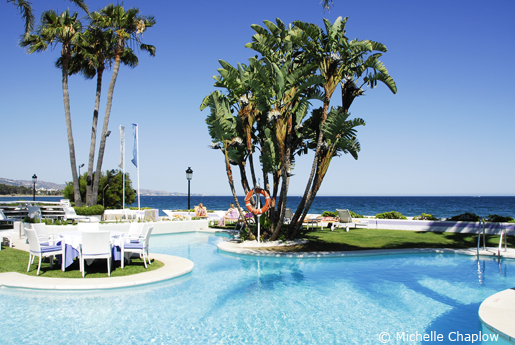 Relax by the pool at one of many beach clubs in and around Marbella.
Marbella Beach Clubs
Marbella is well known as the favourite destination in Andalucia amongst the international jet-set crowd and the very rich and famous. Often referred to as Spain's equivalent of Saint-Tropez, the city and many of the beaches here are well renowned for beauty, opulence and the greatest of luxury.
At Marbella's many Beach Clubs, you can spend the entire day lounging on a sunbed with a cocktail, followed by an evening of luxurious dining and finally dancing into the small hours at some of the best parties on the Costa del Sol.
Although there are many beach bars (chringuigtos) along the beaches of Andalucia, a Beach Club is something more. A Beach Club typically has a swimming pool although is usually located on, or next to, a beach with sun loungers so that guests can enjoy the best of both worlds. Although they are called 'clubs', you cannot be a member of a beach club. For some beach clubs there is an entrance fee, however for others you have to reserve a sunbed. Beach Clubs will usually charge a fee per sunbed, but will provide towels and water.They normally also have a restaurant.
Those Beach Clubs that do not belong to hotels are normally only open during the Summer season, from Easter until late September, but check the pages for individual opening times.
Listed below are the most popular beach clubs in Marbella, enjoy. 
Sala Beach
Sala Beach (formerly Buddha Beach) offers a relaxed atmosphere in a beautiful setting in Puerto Banus, with a restaurant and first-class VIP service. More>
Tel:+34 952 813 882

Nikki Beach
Known globally, Nikki Beach is famous for its sheer designer luxury and jet-set sophistication. Delicious food. Holds private parties as well as events open to the public. More
Tel:+34 952 83 62 39
Ocean Club Marbella
One of the largest beach clubs in Europe, Ocean Club offers a new concept in exclusivity, avant-garde, fashion and cuisine. More
Tel: +34 952 908 137

Marbella Club Hotel
The first hotel to be built in Marbella back in 1954, this iconic hotel and beach club are perfect for relaxation, either on the beach or at the spa, before dining in its selection of exquisite restaurants. More
Tel:+34 952 822 211

Victor´s Beach
A laid back, friendly atmosphere and location make this beach-front chiringuito/beach club what it is. Always full of local socialites, a change from the mainstream. More
Tel:+34 639 553 088.

Suite del Mar
An international crowd enjoys delicious Mediterranean food and fresh fish during the day. A more Arabic and Oriental style by night. More
Tel:+34 952 820 900.
Mistral Beach
Having been open for a very long time, Mistral Beach is famous for its beautifully presented seafood dishes, as well as Italian food and cocktails. More
Tel:+34 952 113 284.

Bono's Beach Club
Open all year round, the laid-back atmosphere here suits daytime cocktails and relaxed beach-side dining.
Tel:+34 952 839 236.

Club de Playa La Cabane
The atmosphere here is exclusive and clean. Mediterranean candle-lit dinners are a specialty here, along with live music at weekends. More
Tel:+34 952 762 720.
Bora Bora
With hammocks on the beach, a restaurant and two bars, Bora Bora offers ultimate exclusivity and a creative menu. More
Tel:+34 952 789 100.

Puro Beach
Puro Beach offers a laid-back atmosphere and a tremendous pool with spectacular views across to the Rock of Gibraltar and the Moroccan Rif mountains. More
Tel:+34 971 425 450.

Finca Cortesin Beach Club
Located a little way from the luxury Finca Cortesin estate and just west of Estepona, this exclusive beach club boasts an infinity pool surrounded by palm trees and beach restaurant. More
Tel:+34 952 937 777.
Destinations