san pedro beachside - Cortijo Blanco    
This is one of the original historic districts of Marbella. The Hotel Cortijo Blanco was opened on 26 March 1961 by Miguel Garcia Rico, a doctor from Seville. Construction had begun in 1959, in what is now Calle Antonio Mingote, and by 1963, 60 chalets were complete.
This project was avant-garde, designed as an artistic enclave. A number of painters, writers, actors and directors associated were with the project - Pepe Carleton, Antonio Mingote, Conchita Montes, Georges Rigaud, Luis Caruncho and Jose Caballero (who bought Casa La Enclada in 1964). Jean Cocteau was also interested and wrote about it. 
As it happened another real estate promoter was able to raise finance faster and navigate the fledgling planning laws. Hotel Pueblo Andaluz was constructed and along with it the ubanización behind.
This is still a very select district, with large villas behind high walls. Calle Pablo Picasso is the boundary between Cortijo Blanco and Las Petunias. St George's junior school is located in the district which runs down to the  Playa Cortijo Blanco beach. 
Opposite the entrance to Hotel Cortijo Blanco is the original single-storey building, looking like an old peña de flamenco with its ceramic motifs. It became Discoteca Titanic and more recently Bronco Titanic. Nearby are a number of bars and supermarkets which are all but obscured from the main road, which has been upgraded several times over the years.
Also nearby are Apartmentos Los Boquerones, hardly worth attention except noting that these are a listed building, since they were some of the first ever holiday apartments on the Costa del Sol. It was an innovative idea in the early sixties that some tourists might like to stay in a mini apartment instead of a hotel.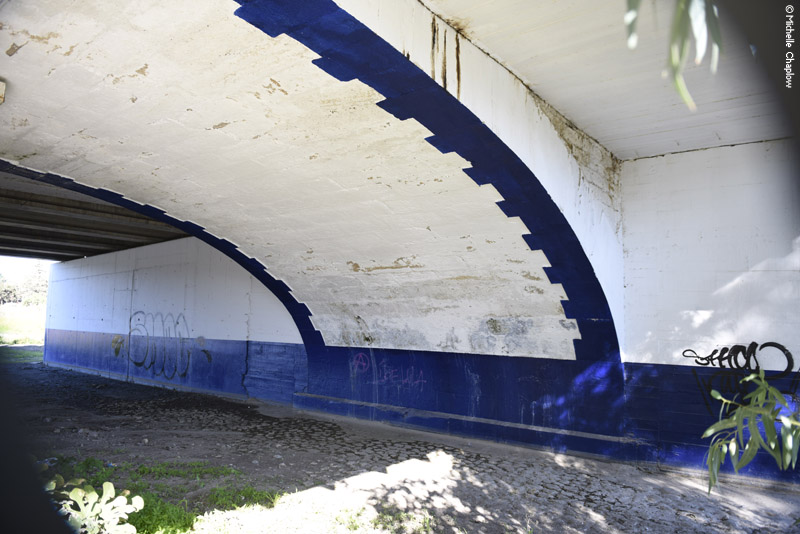 Calle Antonio Machado loops round and crosses under the main road next to the river Guadaliza. Under the bridge you can still see the original 1864 creation by Engineer Pablo Alzola who constructed nine 15m span elliptical arch stone bridges in this stretch of road.  
A major project in days when most trade and travel along the coast was by sea. Similar bridges were constucted over the Rio Verde, Rio Benanolar, Rio Guadaliza, Rio Guadalmina, Rio Velelerin, Rio Castor, Rio Padron, Rio La Cala. The 5.5m wide river Guadaliza bridge was widened in the late 1960's as part of the plan REDIA and again in 2011 when an independent  bridge was constructed along the north side as part of the upgrade to dual carriage way status, in line with the San Pedro underpass which was opened in 2013.
Hotels in Cortijo Blanco district

Globales Pueblo Andaluz
Built in the style of a typical Andalusian village, with pretty streets and squares, this hotel has a large outdoor swimming pool, gardens and a tennis court.It offers spacious, comfortable rooms that all have their own en-suite bathroom and balcony. 

Globales Cortijo Blanco
Featuring pretty archways and French balconies, the Cortijo Blanco offers simply decorated accommodation. The hotel is built in an attravtive Andalusian style with fantastic gardens. An outdoor pool and rooms with balconies are on offer.