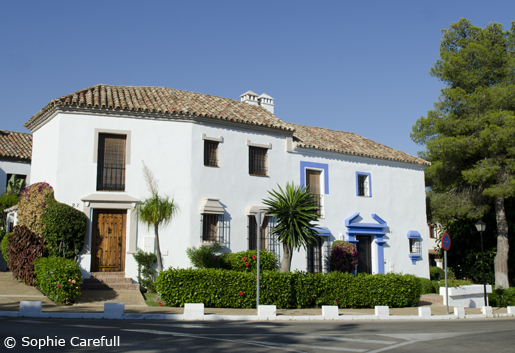 Guadalmina is a beachside community with two 18 hole golf course.
Marbella  - Guadalmina Baja   
by Chris Chaplow

Guadalmina Baja is the beach-side part of the development that is divided by the A-7 (old N-340) coastal highway. The two parts, Guadalmina Baja and Guadalmina Alta are joined by a tunnel and are collectively known as Guadalmina.  

The western boundary runs along the Guadalmina River, which also acts as the Marbella - Estepona municipal boundary. A small bridge gives direct access over the Guadalmina river (Calle 4) to Estepona districts. The eastern boundary is the barely noticeable Arroyo del Chopo stream.
Guadalmina Baja is a well-established development whose construction started in the 1960s and continued until the late 1980s, with some further buildings being erected in the 1990s and 2000s. Plots are still available.  Read a detailed history of Guadalmina. 
The golf course that runs down to the sea from near the Hotel Guadalmina is the South Course. The golf club house is located in Guadalmina Alta.

San José private junior and secondary school is located in Guadalmina Baja.
The local beach is Playa Guadalmina and next to this are the Roman Baths Las Bovedas and medieval lookout tower. The leading hotel in Guadalmina these days is the seafront Hotel Guadalmina Spa & Golf Resort. 
Often incorrectly described as ancient is the Byzantine looking  Capilla de la Inmaculada, it was one of the first constructions in 1946 after the Norberto purchased the estate. (see history of Guadalmina) Interestingly it has a separate bell tower in the design of a lighthouse. This very small chapel has all the elements of a much mor important one; a dome, a vault, buttress walls. Prince Filipe of Asturias (now King Filipe VI of Spain) attended a private wedding in this chapel in 1995.
In Guadalmina the streets are numbered rather than named - Calle 4 winds parallel to the main road and links to Calle 8 leading to Hotel Guadalmina; Calle 5, Calle 7, and Calle 3 run along the eastern boundary.
Guadalmina Baja comprises mainly of large villas - some of the most luxurious mansions in Marbella are to be found here, built on double or triple plots.
A small Andaluz village-style group of townhouses can be found near the hotel on Calle 8, and two rows of town houses built in the late 1990s near the Boveda Roman baths.

Almost the only apartment block, Parque del Sol, is located near the seafront on Calle 3. It is typically Guadalmina with its tiered and curved concrete balcony and slightly art nouveau style, typical of Guadalmina.   The Ramiro beach club and tennis courts are discretely located at the end of Calle 3.
Villas for Sale in Guadalmina Baja
Destinations