Jun is located at the edge of the Sierra de Huétor natural park, in the centre of the Granada lowland. The village offers a great combination of natural landscapes and a wealth of heritage and tradition.
Jun has origins dating back to Roman times; remains of gravestones have been found with mention of the village. The Roman population was followed by Visigoth and Muslim settlers.
One of the most important marks left by the Moors on the area is la Casa del Rincón. This 15th-century house has preserved a well which is in extremely good condition. There are two important churches in the village: La Ermita de la Purísima Concepción and la Iglesia parroquial de la Santísima Trinidad. These three buildings are worth visiting for anyone who wishes to discover more about Jun's history.
Outside the village centre, you can travel the so-called Camino del Tejer o de los Rojos. This path got its name after being used as an escape route for Communists during the Spanish Civil War.
Also worth visiting is the Pabellón de las Artes, a modern building by Arabic-influenced "sculptural architect" and potter/ceramicist Miguel Ruiz Jiménez. Here he creates and exhibits his handcrafted artworks. Ruiz's most famous pieces are exact replicas of the lusterware Vasos de la Alhambra (Alhambra Vases), now part of UNESCO's art collection; he also worked on the Andalucian pavilion for the Seville Expo 92. Other well-known works are Los Hombre Arco and El Coloso de Jun. The latter is a large sculpture made of iron and ceramic which weighs over 10 tonnes and measures 10m x 12m. Ruiz has exhibited in the US, France, Germany and Japan among others, and has works also in Italy, Latin American and Arabic countries.
GASTRONOMY
Typical dishes include migas (a dish made with breadcrumbs, garlic, olive oil and other ingredients), gazpacho and olla de garbanzos (chickpea stew).
FIESTAS
As well as the patron saints' days celebrated in September, Jun celebrates Jueves Lardero or Pucherico (Fat Thursday). It is celebrated on the Thursday before Lent, on this day it is traditional to go out into the countryside and eat with family.
DIRECTIONS
Jun is less than 3km from Granada city. Take the GR-NE-2.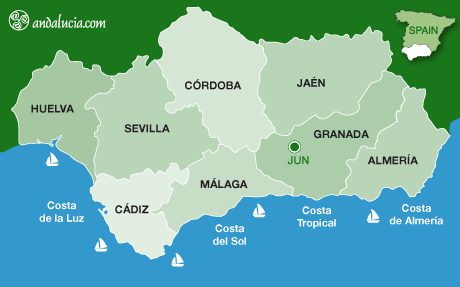 Destinations