Cogollos de la Vega forms part of la Ruta del Califato and has the perfect combination of natural beauty - the Sierra de Huétor - and culture, in the form of important prehistoric sites.
MAIN SIGHTS
Archaeological remains from the Palaeolithic era offer some of the most impressive attractions in Cogollos de la Vega. There are also traces of Neolithic, Roman, Visigothic and Arab culture in the village, for example; el Peñon de la Mata, situated at an altitude of more than 1,500 metres, is home to a number of ceramics and pots which date from the Neolithic era. Visitors can enjoy the amazing panoramic views of Granada's lowlands, including La Atalaya and El Torreón, an old Nazrid watchtower.
Monuments include the Arabic baths which are definitely worth a visit; built between the 12th and 14th century, they are a perfect example of Moorish Andalucia. You should also visit la Iglesia Parroquial de la Anunciación, a church which contains beautiful and valuable artworks.
Nature-lovers will adore la Sierra de Huétor; here you can try hiking, take trips, and spend a day in the country at Fuente Los Potros picnic site. The complex contains areas designed for camping, and for the more adventurous; hang-gliding.
Another interesting local area is la Cueva del Agua, situated between Cogollos de la Vega, Iznalloz and Deifontes.
SHOPPING
There are many local arts and crafts in Cogollos de la Vega. The most impressive are wooden sculptures and religious figurines, images and paintings.
GASTRONOMY
Typical dishes of Cogollos de la Vega include hornazos (a type of sweet bread) and tortas de pringue (cakes with dripping). A special local gastronomic tradition sees visitors and locals alike, wetting bread with water from the village fountains, which is then eaten with chocolate.
FIESTAS
The main fiestas in Cogollos de la Vega are in honour of San Antonio; these take place in June. Also widely celebrated are Santísimo Sacramento in October and el Día de la Cruz in May.
DIRECTIONS
Cogollos de la Vega is 22km from Granada city. To get here, you should take the A-44 (towards Málaga) and when you reach Monteluz change to the A-92. Once you pass through Güevéjar along the GR-NE41, you will have reached your destination.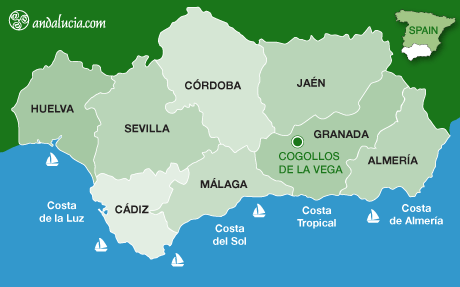 Destinations