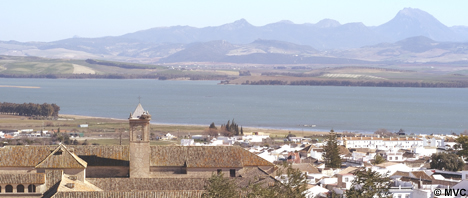 Explore the remote village of Bornos and its reservoir.
La Cola del Embalse de Bornos Natural Area
Just northeast of the Cola del Embalse de Arcos Natural Area, is the Embalse de Bornos, which has its northeastern arm designated as a 630ha protected area. It is similar in flora and fauna to the Embalse de Arcos.
Access
From Arcos de la Frontera, take the A382 towards Villamartín, which passes by and then over the reservoir.
Flora The vegetation is similar to the Embalse de Arcos, with reeds around the reservoir shores. There are also patches of tamarisk.
Fauna
Grey, purple and night herons, egrets and ospreys are found here. Otters are the main mammals in the reservoir.
Destinations