Aqueduct de Saladavieja
East of Estepona town, on the sea side of the main road heading out of town just past Carrefour supermarket and a new urbanisation you will find a small aqueduct that bears the name of the forgotten Roman town. It is located opposite the Palacio de Congreso y Exposiciones. Looking incongruous surround apartments, exhibition halls and urbanisations, is a shoreside patch of ground still given over to private smallholdings. You will see the stretch of aqueduct standing out of sight of the road among the vegetation. The Costa Path goes right by the Saladavieja aqueduct, making it far more accessible. Well over a thousand years old it was used to carry water from a well to irrigate the small fertile valley. Though the arches are Moorish, the pillars are most certainly built on Roman and Visigothic foundations.
The large water tank, which fed the irrigation channels, can still be seen, and if you follow the aqueduct from there you will come to the well from which the water was, and is, drawn. This is most impressive - fifteen or twenty feet deep with a fine arch two-thirds of the way down on the right-hand side. Originally, the water would have been drawn up and fed into the aqueduct by a donkey operating a wheel-and-pulley system. Today an electric pump is used. 
Around the aqueduct there are uncultivated fig, orange and banana trees, which suggest that the well and aqueduct have been in more or less continual use since their construction more than ten centuries ago.
Just a two-minute drive further along the coast, the urbanisation of Hacienda Beach hides another well-aqueduct-water tank complex. Simply drive in and the tank is instantly visible to your left. It is very large, with a paved floor. The aqueduct itself is not particularly long, perhaps thirty or forty yards, and unfortunately, the area corresponding to the well from which it drew its water is fenced off.
The above text was abridged from the the book "In Search of Andalucia" by kind permission of the authors David Wood and Chris Wawn. Click here to order your copy from our online book store.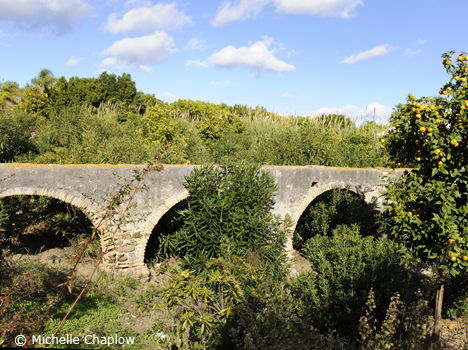 By 2020  with the Sendero Litoral making a inland detour the aqueduct has come into front line view again. The land which is an old water course of Arroyo de Hornacinos has been tidied up and a artistic iron replica of a waterwheel has been added on top of the well. The pump chamber  for the present  water extraction from the well has been relocated alongside.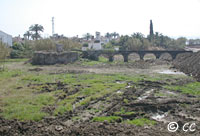 The aquaduct in 2002.