Villa Romana de Las Torres
Villa Romana de las Torres is located immediately beside the Torre Guadalmansa watchtower. There were excavations in 1915-16 and 1929 which revealed an extensive Roman villa complex. The first excavation uncovered the remains of a large building and several pools, which led the leader of the dig, José Martinez Oppelt, to conclude that it had been a termas, or bath house.
The building had been richly ornamented with geometrical mosaics and marble columns. Five excellent mosaics were found and recorded at the time. Other items discovered included the shaft of a marble spiral column and adjoining building materials, as well as pottery and a small bronze bust of a woman.
Approximately 18 buildings were ultimately discovered, three of which had underground water depositories. The site was certainly wealthy, as coins, anchors, bronze and iron keys; clay vessels and brass needles were also unearthed.
Archaeologists should be eternally grateful for our age-old propensity to lose our money. Many a site has received it first tentative dating from loose change left lying around by those who had clumsy fingers or holes in their purses and pockets. On this particular site, which became known as Las Torres, the coins uncovered ranged from the era of the Emperor Vespasian (69-79) to that of Maximus (235-238).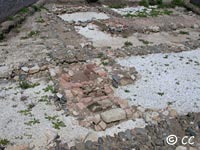 Villa Romana de los Torres
Initially, the mosaics were left in situ, but by the time that Pérez de Barradas came to carry out the second set of excavations in 1929, he found the site in a pitiful state. Shocked by what he saw, he ordered their removal to prevent their inevitable destruction by thieves and vandals. 
Peréz de Barradas unearthed a great many more items of interest: yellow and black ceramic pots, pieces of glass and crystal, more coins, a lamp and intriguingly, a large bronze bust of Gordian II. Since Gordian II was Emperor for only three weeks in 238 and even then only jointly with his father, Gordian I, the making of the price can be dated with some confidence to that year.
The extent and variety of Pérez de Barradas finds revised the original opinion that the site was merely a termas. Barradas concluded that it was an extensive complex, perhaps even a small town, dedicated to, or certainly made wealthy by, the manufacture of garum, the much prized and ever popular fish paste. Since this was made from the intestines of fish macerated in vinegar, we may wonder today at its universal popularity in all parts of the Roman Empire. 
The surrounds to the tower and the excavations have been restored as a landscape feature in a communal part of an urban development. The area has been grassed and landscaped and makes for a pleasant stroll. The excavation have been left open and can be viewed at close hand from a rustic wooden bridge at any time.
An interpretation and exhibition centre called Centro de Interpretación de la Villa Romana de Las Torres located nearby facing onto the coastal promenade. Unfortunately the centre was closed soon after it was inaugurated and un-aired damp quickly aged the display panels.  It can be opened for visits by groups of five or over. Fee is 3€ per person. Visits may be arranged simply by calling Tel: 654 71 17 15.  
Destinations