Torre Guadalmansa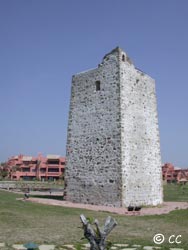 Torre Guadalmansa
The tower is named after the Guadalmansa river which runs close by to the east.
In common with the majority of such towers, its one entrance is high up on its side and the only method of entrance and exit would have been by ladder or rope. Most of the towers along the coast are mediaeval and post-date the Christian reconquest. This may be true of Torre de Guadalmansa, but it is unusual in that it is square rather than round, which suggests it to be Moorish.
Easily visible from the spot, just a little way inland and lending weight to the assumption, is the commanding Montemayor, on top of which still stand the impressive ruins of a Moorish castle.
The site of the Roman Villa Torre de las Flores is located adjacent to Torre Guadalmansa.  
The tower is in a pleasant open grass park next to the coast and easly accesable from the coastal path.
Location
Destinations