Torre el Velerin
Torre Velerin is named after the river located slightly to the west for the watch tower. It is a circular watchtower with single opening at high level similar to others in the vicinity.
Torre el Velerin, was until the housing complex was constructed in 2021/2 located on shrubland next to a small wood and could be seen and accessed directly from the main A-7. The area was a favourite spot for picnics with easy parking and assess to the beach bar and coastal path.
Since the construction of the housing complex the rise on which the tower stood has been cut away and replaced with concrete retaining walls. There is a convenient ramp up to a platform with a stainless steel railing on which to view the tower. Unfortunately the platform has not been maintained since it was constructed and is already showing signs of age with weeds taking hold. The railings at one side are only two metres from the tower and a cheap twigg fence has been erected in-order to protect the villa owners next door from prying eyes. This is not progress.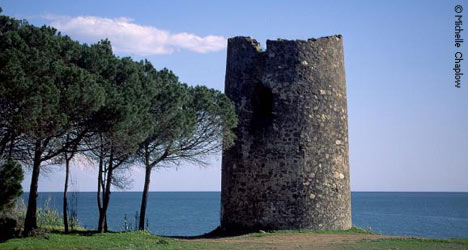 Torre el Velerin which lies close to the river Velerin pre 2022 offered one of the last opportunities on the Costa del Sol to view one of the watch towers in a natural setting and one that has not had developers work around the tower.
Nearby is beach bar Torre Velerin which is open in the summer only. The Malaga Coastal path has been constructed nearby.
Access
It can be only be reached from the coastal footpath and not directly from the A-7 coast road. There are connecting paths from the road where parking is limited down to the coastal path about 100m from the tower in both directions.
Destinations