Los Boliches - District of Fuengirola
Los Boliches is the seafront area to the eastern side of Fuengirola centre. It is accessible from the A-7 (old N-340) highway or by bus or train.
Amongst the many supermarkets and shops in the area, there is also a large Hipercor (part of the El Corte Ingles chain), situated just opposite the train station.
With a history going back to Phoenician and Roman times, it has for many years been a fishing village and still holds strongly with its fishing traditions. It is favoured by many foreigners and Spaniards alike to set up home. Although much investment has gone into improving the facilities and general infrastructure in Los Boliches, it has retained much of its original charm and is not dominated by high apartment blocks, as in some other parts of Fuengirola and the coast.
The Parish Church of Carmen y Santa Fé is the centre of the neighbourhood and it is from here that the Virgin is carried during the Fiesta Virgin del Carmen each year on the 16th July.
As well as some of the best bars and restaurants to choose from, Los Boliches also boasts some of the finest beaches in Fuengirola.
Amongst the many different types of restaurant, there is an excellent vegetarian restaurant called Vegetalia (C/ Santa Isabel, 8, Los Boliches – Tel 952 586 031).
Although very much a popular beach resort area, Los Boliches also has a reassuring sense of permanence. It is home to well integrated year round residents – Spanish and foreign alike – many of whom originally came at one time for a holiday and could find no reason to leave.
The site of archaeological remains of a salting factory is a reminder of this area's rich historic past. The Phoenicians and then the Romans have left plenty of evidence of their settlements and way of life, to remind today's tourist of the origins of Los Boliches. To see a very good account of the history of Los Boliches, along with the whole of Fuengirola, it is worth visiting the Museo de Historia near Bioparc Fuengirola.
The most lasting heritage in Los Boliches is the tradition of the fishing folk who have lived there through the generations. Still today, fishermen catch wonderful fresh fish which is served in the typical beach bars and restaurants. Between the main street and the sea there are lovely little narrow streets buzzing with the lively Andalucian atmosphere and with wonderful local seafood and fresh fish dishes to choose from.
One of the most established restaurants in Los Boliches, famous for its 'Mussels in a Cream Sauce' and 'Lobster Thermador', is La Langosta. This is a small friendly restaurant with a big reputation for its superb Andalucian cooking. (Calle Francisco Cano, 1, Los Boliches, Fuengirola. Tel: 952 475 049)
Los Boliches or Santa Fe de Los Boliches as it was originally called was a small fishing community separate from Fuengirola. It was considered to be bounded by Arroyo Real to the west and Arroyo de las Pajares to the east. Inland from what is now the railway were allotments farmed by the inhabitants to supplement fishing income. Since the 1960s Los Boliches has been 'joined' to Fuengirola and its boundaries are forgotten.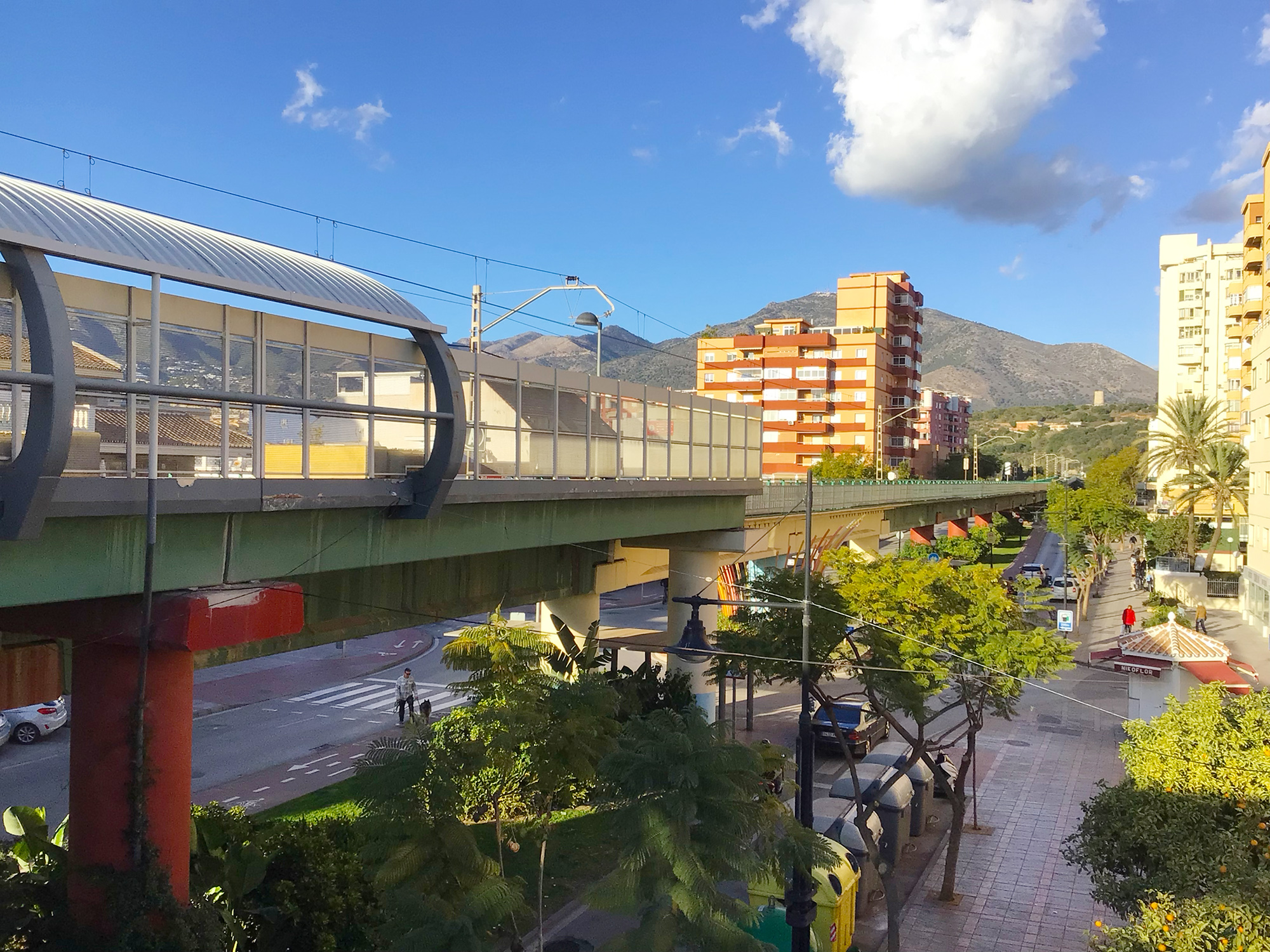 Los Boliches train Station
Los Boliches train station is a stop on the elevated section of the railway which runs along Avenida Nuestra Padre Jesus Cautivo. There are stairs, a ramp and an elevator to reach the platform. There is only one platform on this single line section. Ticket Machines at stations. Departure and arrival times from Adif. Next stations are Fuengirola and Torreblanca (direction Malaga). Info about trains on the Fuengirola to Malaga railway. Read history of Malaga to Fuengirola railway.