Los Monteros is the next Marbella beach to the west.
Playa Alicate / Playa Pinomar
Playa Alicate is also known as Playa Pinomar, it is 850m long and 25m wide. It is one of the surprising busy beaches in the Marbella area. This is because it is relatively narrow and it is backed by a number of large urbanisations such as El Rosario, Urb. Playas Andaluzas, Urb. Costabella, Urb Andasol.  

The sand is fine and slightly lighter that other beaches nearby. Parts of the beach are backed by housing, other parts are backed by small sand dunes.  The narrow beach does slope quite steeply down to the sea here. 
There is a  beach club called South Beach and 18 beach bars along this strip. Perhaps more beach bars per km than any other part of the Andalucian coast. Look out for Los Sardinales at the western end, well established and set in a shady group of trees at the end of Avenida Gaviero. Heading east nearby is Restaurant Los Cano on the beach itself.  South Beach is the Beach Club located on a plot of land facing the beach. Restaurant Las Flores, Restaurant El Arenal, Bono's Beach, Poco Loco, Restaurant el Rinconcito, Miguel y Maria Restaurante, Chiringuito Fernando y Encarni, then on the west of Aroyo el Sequillo, Los Olas del Embarcadero, Restaurant Aqui te quiero ver, Chiringuito Sylt Marbella, Chiringuite Ranchon Cubano, Chiringuito Las Mimosas.
Other facilities include showers, WC´s, parasols, sun loungers, boat and watersport rentals and facilities. Parking is limited to parts of the complexes that lead down to the beach. There is a life guard on duty in summer at this beach at distinct points.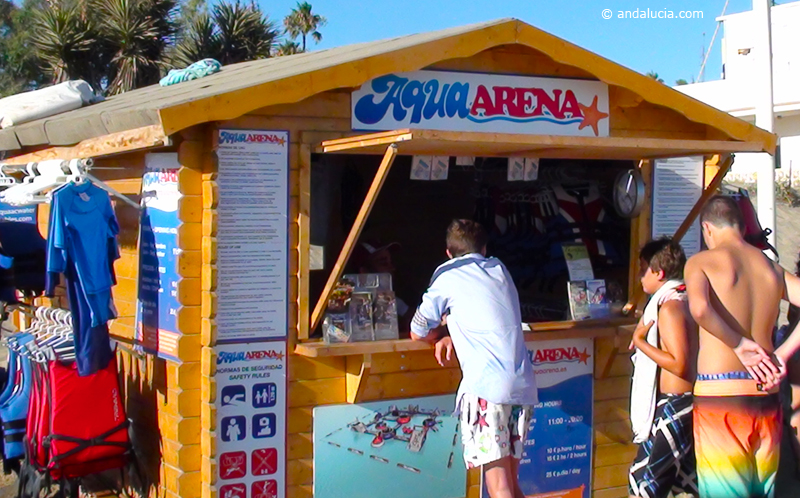 Playa Real de Zaragosa © Michelle Chaplow
Near the Arroyo el Sequillo, there is a watersports facility called Marbella Jet Ski and also in the summer a giant floating island rather like a bouncy castle on the sea. Pleanty of fun for the children and the parents.  

The beach is bounded by the river bed Arroyo Real de Zaragosa and the beach around this point is also called Playa Real de Zaragosa.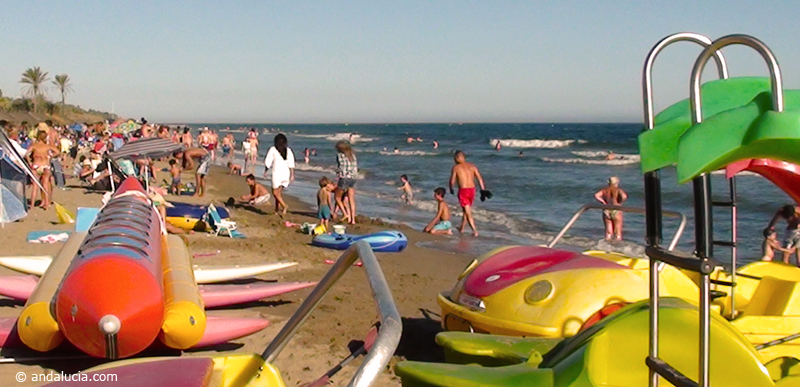 Playa Real de Zaragosa © Michelle Chaplow
East of here a section of the beach has another name, which is Playa la Vibradora and on the front line there is the Beach club for the Vincci Seleccion Estrella del Mar  and nearby the up market The Beach House Restaurant. 
Las Chapas is the next Marbella beach to the east.
Destinations