CAMPSITES
There are nearly 200 registered camping grounds around Andalucía, divided into 1st, 2nd and 3rd categories according to the facilities available. Most camp sites are only open in summer and can get extremely busy in peak season, so book ahead.
As a general guide there are three categories. Third will have basic amenities such as showers and toilets. Second will also have a swimming pool, bar, cafeteria and/or restaurant and hot water, as well as laundry, and telephone. First will be well-equipped with a supermarket and even, in larger camp sites, a post office and money exchange. Other amenities might include a children's play area, and sports facilities such as tennis and racquetball courts. Some camping grounds will also have bungalows, complete with toilet, TV and kitchen, should you prefer a roof over your head!
It is worth considering these categories when deciding where to pitch your tent: do you have your own transport? If not, choose a camp site either within walking distance of a town or with its own supermarket (1st) and/or café/restaurant (1st and 2nd). How long are you planning to stay in your accommodation? If more than a week, laundry facilities will come in handy (1st and 2nd).
The good news about seaside camping in Andalucía is that in summer, larger (official) seaside camp sites become party centres in their own right.
Camping has recently enjoyed a huge surge in popularity. From being the preserve of socks-and-sandals, thermos-of-tea types, it has evolved into the trendy travel alternative for free-spirited, independent types who prefer to wake to the sound of birdsong rather than the sound of traffic, enjoy cooking up their meals on a stove and relish the beautiful rural settings.
City Campsite Suggestions
Campamento Municipal de Cordoba
2nd Cat, Avda del Brillante, 50. Tel: +34 957 282165
Camping Sierra Nevada, Granada
1st Cat, Avda de Madrid, 107. Tel: +34 958 150062
Camping Sevilla
2nd Cat, Ctra Madrid-Cádiz Km 534. Tel +34 954 514379
Camping La Garrofa
2nd Cat, Ctra Nac 340 Km 435
Torremolinos (7km west of Malaga city),
Camping Torremolinos,
Loma del Paraíso, 2, 29620 Torremolinos.
Coastal Campsite Suggestions
HUELVA
Isla Cristina,
Camping Luz,
Crta A-5054 La Antilla a Isla Cristina Km 3 (128.98 mi) Isla-Cristina, Andalucia, Spain 21431.

Punto Umbria,
Camping Playa La Bota
Carretera Huelva-Punta Umbria, km 11, 21100 Punta Umbría.
Mazagón,
Camping Doñana Playa,
Carretera San Juan del Puerto-Matalascañas, km 35.5, 21130 Mazagón.
CADIZ
Chipiona / Rota
Camping-Playa Aguadulce
Carretera A-491, Km 6,5, 11520 Costa Ballena.

El Puerto de Santa María,
Alojamiento Rural Coto de la Isleta,
Camino Tiro Pichon, s/n, 11500 El Puerto de Santa María.
Chiclana,
Bungalows-Camping La Rana Verde
Carretera Las Lagunas, s/n, 11130 Chiclana de la Frontera.

Conil de la Frontera,
Camping-Bungalows El Faro
Puerto Pesquero, Km.2, 11140 Conil de la Frontera.
El Palmar,
Camping El Palmar
El Palmar, s/n, 11150 El Palmar.
Los Caños de Meca,
Bungalows Camping Caños de Meca,
Carretera de Vejer a Caños km 10, 11159 Los Caños de Meca.
Los Caños de Meca,
Camping Faro de Trafalgar,
Avenida de Las Acacias , 3 11159 Barbate Caños de Meca – Cádiz.
Vejer,
Camping Vejer.
Carretera N-340, km 39,5, 11150 Vejer de la Frontera.
Zahara de los Atunes,
Bungalows Bahia de la Plata,
Carretera Atlanterra sn, 11393 Zahara de los Atunes.
Tarifa,
Camping Paloma
Carretera N 340, km 74, 11380 Tarifa, Spain
Tarifa,
Camping Torre de la Peña,
Camping Torre da la Pena: CN 340, km78, 11380 Tarifa
MALAGA
Marbella,
Camping La Buganvilla
Carretera N-340, Km.188, 29600.
Marbella,
Camping Playa Marbella,
Carretera N-340, Km 193.
Marbella,
Complejo Turístico Cabopino,
Nacional 340 Km 194.7, 29604 Marbella.
Torremolinos,
Camping Torremolinos,
Loma del Paraíso, 2, 29620 Torremolinos.
Torre del Mar,
Camping La Laguna,
c/Paraja La Laguna, 29740 Torre del Mar, Malaga
GRANADA
Almuñecar
Camping Tropical,
18690 Almuñécar, Granada
ALMERIA
Roquetas del Mar,
Camping Roquetas,
Carretera Los Parrales 90, Roquetas de Mar 04740.
Mojacar,
Centro Vacacional Macenas
Camino Lotaza 2, 04638 Mojácar.

Cabo de Gata,
Camping Cabo de Gata
Carretera Cabo de Gata, s/n, 04150 El Cabo de Gata, Spai
San José,
Camping Albergue Tau
Camino de la Higuera, s/n , 04118 San José, Spain
Ronda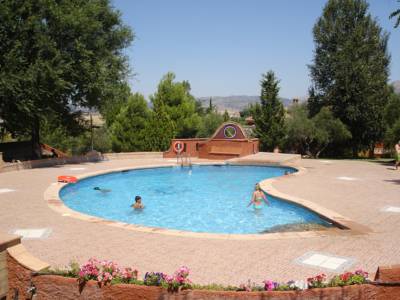 Complejo Turistico El Sur
Charming studio apartments in the camping complex have free WiFi and free parking. A seasonal outdoor swimming pool is surrounded by a sun terrace. Camping Sur Ronda Km 1.5, Ronda-Algeciras Road - Ronda (29400) - Tel: +34 952 87 59 39
Serania de Ronda - Algatocin - Jubrique
Camping Genal
Located in deep in the Genal river valley between Jubrique and Algatocin. Secluded area very quiet and great for kids to play safely outside. Woodland location right beside the Genal river.
Camping Park Pizarra, Pizarra
29560, Malaga. Tel +34 649 686 087
Iznate (Málaga),
Camping Iznate,
Ctra. Benamocarra-Iznate, 29792 Velez, Spain
Sierra Nevada (Granada),
Alixar de Guejar Sierra,
Maitena s/n, 18160 Güéjar-Sierra, Spain
Cazorla Natural Park (Jaén),
Camping Rural Llanos de Arance,
Carretera A319 km 53800, 23478 Coto Rios, Spain
Villafranca de Córdoba,
Camping La Albolafia,
Camino de la Vega, s/n, 14420 Villafranca de Córdoba, Spain
Santaella (Córdoba),
Camping La Campiña,
Ctra A-379 Km 47,3 La Guijarrosa, 14547 Santaella, Spain

Monachil (Granada),
Camping Ruta del Purche,
Carretera de Sierra Nevada, KM16, 18007 Monachil, Spain
Güejar-Sierra (Granada),
Camping Las Lomas,
Carretera de Güéjar Sierra, Km 6.5, 18160 Güéjar-Sierra, Spain
Olvera (Cádiz),
Camping Pueblo Blanco,
Carretera Nacional 384, km 69, 11960 Olvera, Spain
Benajarafe (Málaga),
Camping Valle Niza Playa,
Carretera. N- 340, Km 264, 1, 29790 Benajarafe, Spain