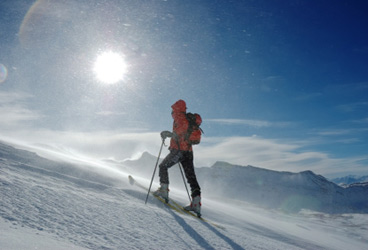 Cross-country skiing
Cross-country Skiing
Andalucia is well known for its sunshine, beaches and amazing rural and cultural attractions - but what about skiing? In fact, there is a thriving downhill skiing industry thanks to the world-class station in Sierra Nevada. Moreover, few are aware that this region is also cultivating cross-country ski (also known as Nordic skiing, as opposed to Alpine - downhill), and that we have excellent athletes in training who compete not only in the south of Spain, but all over the world.
In Sierra Nevada, there is a new 2,500-metre cross-country run next to the Virgen de la Nieves chairlift.
INTERVIEW WITH MIGUEL ANGEL TORRES, ANDALUCIA'S HEAD OF CROSS-COUNTRY SKI TRAINING
Miguel Angel Torres is the head of Cross-Country Ski and Ski/Target-Shooting Biathlon training and events in Andalucia. We spoke to him just before the 2009 Regional Cross-Country Ski Championships (Campeonato de Andalucia de Esqui de Fondo) about the athletes in his programme, where they train, and what spectators can expect to see at an event.
AC- Can you tell us something about the athletes who will be participating in this Regional Cross-Country Ski Championship?
MA- We have quite a high calibre of athletes. For example, there is biathlete, Victoria Padial, who has just met the requirements to compete in the Spanish team at the 2010 Winter Olympics in Vancouver*. About 30 to 40 skiers will be participating and many of them are highly qualified. However, anyone can participate in this event, so there will be a variety of levels.
AC- Could you tell us a bit about cross-country skiing in Andalucia?
MA- Our main centre for activity is Puerto de la Ragua near Guadíx [closed for the rest of the season, as of January 2023, due to lack of snow]. It's a wonderful area for cross-country skiing, with typical Alpujarran landscapes, pine trees and - on clear days - fantastic views to the Almería coast and even Africa. However, Puerto de la Ragua is only at about 2,000 metres altitude, so that means the snow is not always in the right condition for events, which is why we also use the facilities at Sierra Nevada. If you're interested in watching an event, it's important to find out the latest information at the regional ski federation's web page, (www.fadi.es), to check where the event is taking place.
AC- What's the next level after the Regional Cross-Country Ski Championships?
MA- Those who make the selection will go directly to the National Cross-Country Ski Championships (Campeonato España Esqui de Fondo).
AC- Tell us a bit about the cross-country ski scene in Andalucia.
MA- There aren't many people who practice this sport in Andalucia. However, we have some very good athletes. Our regional training centre is in Sierra Nevada, and it's called the Winter Sports Specialisation and Technical Skills Center (Centro Especializado de Tecnificación de Deportes de Invierno) and is subsidised by the regional government. The centre trains athletes who compete in all winter sport categories. We don't have many cross-country skiers, but actually we prefer to have a small team and thus be able to make a greater investment in each athlete. As you can imagine, these athletes need to travel a lot to train and compete on slopes across Europe and around the world. So we have a few very highly-trained and qualified cross-country skiers that represent our region well.
AC- Do you encourage spectators at the Regional Cross-Country Ski Championship?
MA- Yes, we do. As you can imagine, the spectator element is the key to success in sporting events these days. People are encouraged to come and watch free of charge. They can bring their cross-country skis and follow the participants throughout the event, and then afterwards we enjoy a meal together. Spectators are welcome to ring me for more details, which often depend on the weather conditions. My number is 667259224.
AC- Could you recommend a couple of good places to enjoy traditional mountain cuisine in the Granada area?
MA- Puerto de la Ragua is a really good place to enjoy rural tourism in Andalucia. In that area, in a place called La Calahorra, there's an excellent restaurant called El Castillo. Also, I recommend an inn just five kilometres or so from Puerto de la Ragua heading towards Almería. It's called La Posada de los Arrieros. That's a nice place to stay, very rustic and built of wood and stone, and you can get a good meal there too.
AC- Tell us a bit about your job as head of cross-country ski and the ski/target-shooting section of FADI, our regional ski federation.
MA- I'm charge of a team of trainers who, in turn, are responsible for training the athletes whose ages range from 12 to 18 years old. I coordinate and direct their work and then organise competitions.
AC- And finally, what role does FADI, the regional ski federation, play in the events held at Sierra Nevada?
MA- We are entirely responsible for regional events, but we also play a role in both national and international events held here because we are the hosting federation.
*Victoria competed in the 2010 and 2014 Winter Olympics but had disappointing results. However in 2014 she became the first Spanish biathlete to win a medal (silver) in a European Championships. The following day, she also won the silver medal in the 10 km pursuit event.
Destinations