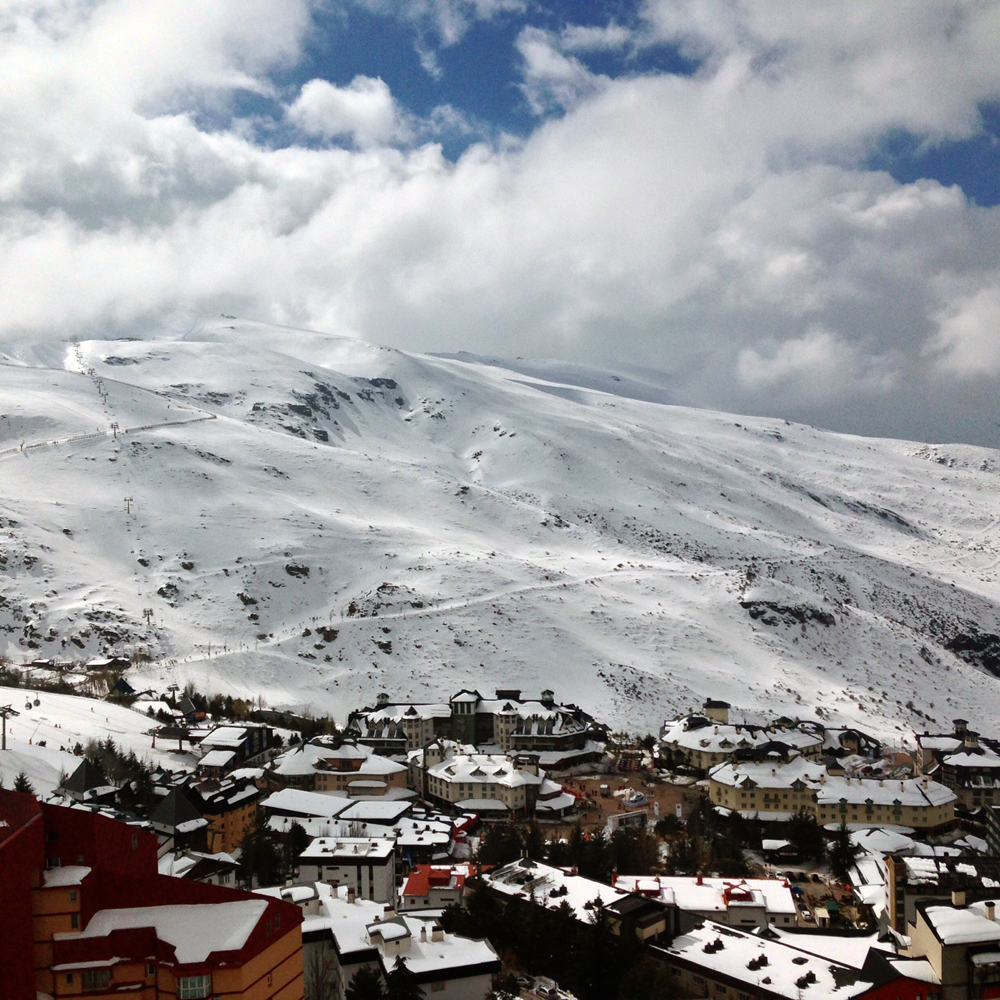 A mountain view of the Sierra Nevada village.
The Sierra Nevada Ski Experience
Lessons & Equipment Hire
As soon as you step into Sierra Nevada village to get equipped for your day's skiing, you are overwhelmed by the amount of signs saying ´alquiler´ (ski hire) and ´escuelas´ (ski schools). Almost every rental company in the village offers ski and snowboard lessons with a variety of teachers.
If you are a first-time skier, it is highly recommendable to have a lesson to learn the basics. A two or three-hour lesson is preferable, as time flies once you are on the slopes and the class will be over before you know it. Prices vary, however the more learners taking the lesson, the cheaper it is. Private one-to-one lessons can cost as much as 40 or 50 euros per hour, with deals for bigger groups -the price goes down to around 15 euros per hour per person, or even less.
The skis you are provided with depend on your level of experience, so don´t be afraid to be honest. Expect to pay around ten euros per day for equipment rental. You will be asked your weight in kg and shoe size, and the skis will be adjusted appropriately. Included in the price are the skis, poles and ski boots. Not all rental companies offer clothing, however helmets are available at an extra cost of around 5 euros per day - highly recommended. Ski trousers and jackets are available for rent in some shops around the village and come at a reasonable price (trousers at around 8 euros per day).
Gloves, sunglasses and scarves are sold on almost every street corner in the Sierra Nevada as well as in the shops, so don´t panic if you forget yours. Long johns (thermal underwear) are not necessary, however they definitely help on colder days.
SKI Passes
In order to access the ski lifts and get up to the slopes, you will have to buy a ski pass. You can do this either in the main square in Sierra Nevada village, or online beforehand. The prices of the ski passes vary depending on when you visit the resort and how long you want the pass to last for. Expect to pay at least 30 to 50 euros per day for this, however the longer you buy the ski pass for, the more economical the price per day. Make sure you keep the ski pass somewhere that is easily accessible, as this will make it much less hassle to enter the ski lifts whilst carrying all your equipment.
Ski Lifts
One of the many fears of first-time skiers is that they will fall or slip whilst getting on and off the ski lift or chair lift. There's no need to worry. The main ski lifts are telecabins and are easily accessible. They are constantly moving and you can step into them without much difficulty.
When heading onto the slopes, you will have to use the chair lifts. These are not too difficult to get on and when having your first ski lesson, you will be taught how to use them safely (or you can just copy the skiers in front of you). Make sure you hold your poles up in the air and you don´t drop anything. The chairs can fit either three or four people and will take, depending on the length of the slope, 10 to 15 minutes to reach the top.
When you reach the top of the lift, lift up your poles again, wait until the chairlift reaches the correct point (too early or too late and you'll lose your balance and be more likely to fall over), put your skis down onto snow, stand up and slowly ski down. Don't panic if you drop anything or fall here, as this is very common and the man controlling the lift will stop it when necessary. It is a good idea to ask the other people on your chair which way they are going when they get off (left/right), so you can decide who will go first/last, to avoid confusion and a potential crash. Although be aware that you don't have long to get off, so you need to carry out your plan quickly.
The Slopes
The best time to visit the Sierra Nevada is during the week, if possible. This is when the slopes are less crowded and you have ultimate freedom to ski and snowboard wherever you want. Expect the whole resort to be crowded by midday Saturday, as buses from Granada bring heaps of keen skiers to the slopes in the morning, as well as other skiers from around Andalucia and beyond making the most of the weekend. This is when the resort can be packed with groups of skiers, including ski clubs and school trips, making the slopes very busy.
Although queues for ski lifts can be quite long, they do move quickly, so don't be put off. It is important to be vigilant and aware while you are skiing, in order to not crash into other skiers, which can cause injury when moving at speed. If you feel you are going too fast and are losing control, it's best to make yourself fall over in order to stop and there by avoid injury to yourself and others.The faster you're going, the more likely you are to hurt yourself, or someone else.
Accidents
First of all, if this is your first time skiing, accept that you are going to fall plenty of times. If you are unfortunate enough to have a proper accident on the slopes and feel you cannot get up or that you have seriously injured yourself, do not worry - there will be skiers all around who are very willing to help out a fellow snowsports enthusiast. There are also snowmobiles surveying the slopes at all times and these will drop you off at the closest first-aid centre or hospital if needs be. If the slopes are crowded, go slowly and try your best to ignore skiers coming from behind, keeping your eyes in the slopes!
If you are having a lesson, the teacher will stay with you at all times and will advise you where to go and where not to go. They will also help you up when you fall(and suggest how to improve your technique in order to avoid further tumbles).
Food
In the Sierra Nevada village, there is a good selection of restaurants, tapas bars and coffee shops. Many of the tapas bars offer free tapas with every drink, as is traditional in Granada – a perfect combination for après-ski! Restaurants vary in quality and price, so look around before you make a decision. Expect the restaurants and bars in the main square to be a bit more expensive than others, for obvious reasons.
When you go up to the slopes, there are a few cafés offering drinks and snacks. Eating here is not recommended, as it is very expensive with poor quality food, although it is perfect for a quick mid-ski drink or snack.
Things to Watch Out For
When going skiing on a sunny day, make sure you put suncream (block if fair-skinned) on your face and the back of your neck. A common mistake is not to bother,as you don't feel hot, but remember that the sun reflects off the snow, adding an extra dimension of power to those rays - you don´t want to come off the slopes with a bright red sunburned nose and cheeks. If you are skiing in blizzard, wind and general bad conditions, make sure you have a scarf (to cover your face and protect it from heavy snow), goggles (to protect your eyes) and, of course, gloves. Before skiing, tuck your T-shirt or undergarment into your trousers - this will help you to avoid the unpleasant experience of getting snow up your back when you (inevitably) fall over.
Parking
If you choose to come to the resort by car, do not expect to find a parking space easily. Parking often comes included with accommodation, as hotels and apartments blocks usually have car parks located underneath them. There is very limited parking in the village itself and there are police monitoring the car parks and allocated areas at all times, keen to hand out tickets.
Getting Around the Resort
If you are staying higher up in the resort, you will find that climbing lots of stairs after skiing all day is exhausting. Instead, take the cable car that goes up the mountain from the village and has various stops along the way, allowing you to get off when necessary. The best way to get around the resort is to walk and use the cable cars, as the one-way road system makes it difficult to drive. The village is strictly pedestrian, and you will see everyone carrying their equipment around.
Leaving the Resort
Unfortunately, the resort only has one road going through it, which is one-way. The busiest time for cars in the resort is Sunday afternoon and evening, when a big queue forms from the top to the bottom of the mountain. It can take anywhere between an hour and two hours to get out of the resort at this time, although the local police often try to speed up the process using their whistles and waving hands. There are regular shuttle buses from the resort down to Granada city.
Destinations