Parador Hotels in Andalucia
Even if you've never stayed at one of these establishments, you will almost certainly have heard of the prestigious government-run national chain.
Some Paradors are located in historic buildings such as castles, palaces and convents, while others are purpose-built hotels designed to open up fascinating – but remote – areas to tourism.
You don't need to stay in a Parador to enjoy the amazing views and unique settings; you can just see the magnificent interior by having lunch, a romantic dinner, or even just afternoon tea or coffee on the terrace. 
Many of these hotels have wonderful gardens, filled with exotic blooms, where you can enjoy a quiet drink, as well as swimming pools and other leisure facilities. 
Each Parador is a unique gem with a history all of its own, such as a 13th-century hilltop castle. As you get to know the Paradors by visiting or staying at them, be sure to find out their stories – especially when the building has been restored and converted, as its walls will hold many fascinating tales. Staying in one of these hotels is an unforgettable experience.
These are immersive history lessons: you may be sleeping in a former monk's cell or a duke's chamber, dining in the refectory or chapel, and taking tea in a grand hall. The past enriches every aspect of your stay.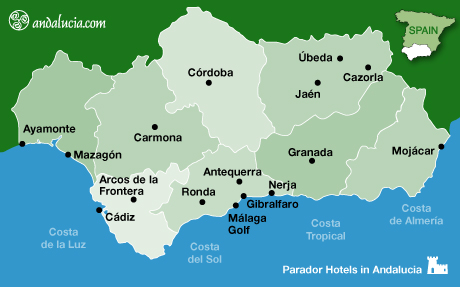 Map of Parador hotels
There are 16 paradors in Andalucia in total:
Huelva province: Ayamonte and Mazagón
Cadiz province: Cadiz city and Arcos de la Frontera
Seville province: Carmona
Cordoba province: Cordoba city
Malaga province: Malaga Golf and Gibralfaro (both in Malaga city), Ronda, Antequera and Nerja
Granada province: Granada city - inside the Alhambra
Jaen province: Jaen city, Ubeda and Cazorla
Almeria province: Mojácar