Carmona parador
The Parador in Carmona occupies a 14th century Moorish fortress, known as an Alcázar in Spanish. Staying here is one of the best ways to get an intimate glimpse of Arab style architecture – the building is beautiful and the views are stunning.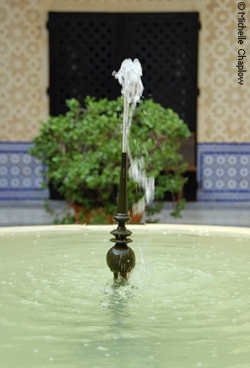 Fountain at the Carmona Parador
The Carmona Parador provides a comfortable – if not exotic – base to explore Seville Province with rooms that provide ample space and light. Some also have balconies to better enjoy the panoramic views of the surrounding countryside. There is a pool for summer visitors and also an excellent dining room serving local specialities like partridge, Carmona-style spinach with herbs (espinacas especiadas) and cider cakes.
The parador enjoys a magnificent location on the edge of the town of Carmona on top of a small hill, the highest point in the town,  overlooking the town and the countryside.  Access by car is simple and well signposted from the town. Drive up the access road and enter the arch into the courtyard where there is secure private parking.
Building History
The current Parador is on the site of a primitive Acropolis; Turdetan and Punic. A muslim fortress of the Taifa King of Carmona was constructed here. Archaeologists speak of a huge rectangle of two enclosures, one inside the other separated by walls and a barbican, except on its eastern side where the wall that had up to nine towers. The palace had a moat with two doors on both sides.
After the 1247  reconquest of Carmona by King Ferdinand III of Castile,  King Pedro I of Castile,  who reigned from 1334 to 1369,  rebuilt the castle  as a splendid Mudejar palace. According to the chronicles, was his favorite residence and worthy rival of the Alcazar of Seville that was also the king's work.
It was devastated in two earthquakes in 1504 and in 1755.    After the latter the building was in a ruinous state from which it never recovered.
In the eastern corner of the old Alcazar (castle) enclosure is where the Carmona Parador was built in 1976.  It was decided to follow a Hispano-Muslim style lead by architect  José Luis Picardo. The layout was determined form the archaeological site survey.

The interior room layout was completely modified for use as a hostel.  The old Plaza de Armas is now the Parador car park.  The Royal House and its rooms constitute the living rooms and bedrooms. 

Book Parador Carmona
Location
Alcázar, s/n 41410 Carmona Sevilla
Destinations