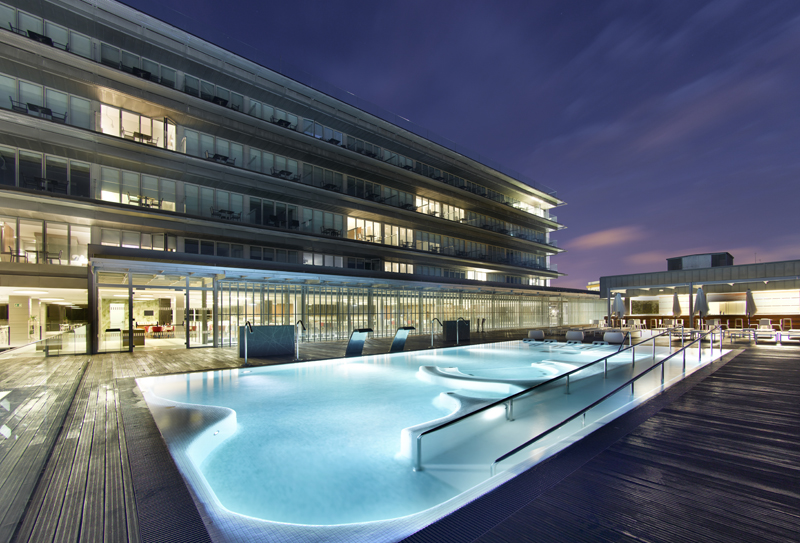 Cadiz parador
Four-star, high-tech, eco-friendly hotel with a superb location.
The Parador in Cadiz, known as the Hotel Atlantico, is probably the slickest hotel in  Cadiz, and also the most vanguard of the state-owned Parador chain. A recently-opened fabulous contemporary building with one entire wall of glass, it makes the most of the breathtaking location and sea views across the bay to Rota.
This Parador hotel sits on the edge of the small promontory upon which the city is built, yet still near the centre and the famous and historic harbour. As such, it offers a perfect base from which to explore this most ancient of European cities – and to enjoy the annual Cádiz Carnival in February – while offering the city's finest sea vistas, with 21st-century comforts.
The Cádiz Parador is an ultra-modern hotel, both inside and out - the most futuristic of all of Spain's paradors. This streamlined new hotel opened in 2012, in the same location as the original building which dated from 1929, and has 106 rooms and 18 suites over five floors, all with sea views from their glass balconies; WIFI is free.
The parador's lobby is spacious, with clean, angular walls and open galleries adding to the feeling of light and airiness; as no other buildings are nearby, the hotel is bathed in the unique quality of light afforded by its oceanfront location. The vanguard design of stone and marble is softened by wood panels, while its artistic value is enhanced by a panel of chic industrial-style criss-crossed metal.
The pool area is one of the most stunning in Andalucia, surrounded by wooden decking and with unimpeded panoramic sea views - there is one large pool divided into separate areas, including one for children. There's a full indoor spa with circuit (extra charge) and treatments, which also features an outdoor heated pool with jets. Free baby-and-parent swimming lessons are offered on Wednesdays; children will enjoy the miniclub on summer afternoons.
As might be expected, due to its seafront location, this parador offers fabulous fish and seafood in its restaurant, with chefs preparing the day's fresh catch using favourite local recipes such as fritura gaditana – fried fish from Cadiz. Including its ample terrace, this restaurant is the largest of all the paradors. There is also a taperia, for lighter meals where you can sample various foods in the form of tapas – small dishes.
Designed not only for tourists, but also for those wishing to host business conferences, conventions or social gatherings, the hotel has ample events facilities including ten function rooms accommodate up to 185 people. It also has a very convenient underground car park for residents at standard fee.
This parador has a number of energy-saving features including solar power - a no-brainer in sundrenched Andalucia, yet used by surprisingly few hotels - in line with the new environmentally-friendly aspect to Spain's state-run hotel group. These include:
rainwater collection: used in irrigation and anti-fire sprinkler system
grey water collection: reused in toilets
photo-voltaic panels: solar energy is converted into electricity using a natural gas co-generator
"domotic" system in guest rooms: for managing lighting, heating, and air-conditioning, as well as light-reactive windows, which darken when it's sunny, to maintain the temperature of the room
large windows in guest rooms and most public areas, making most of natural light and reducing need for electric lighting
recharging points for electric cars in garage
cycles available for rent

Book Parador Cádiz
Location
Avda. Duque de Nájera, 9
Destinations