What's it like?
The Jaen Parador, also known as the Parador de Santa Catalina, has a spectacular setting: it is in a restored castle on a hill overlooking the ancient city of Jaen, and the countryside and mountains beyond. In Andalucia, this parador is second only to the Parador de Granada in terms of historical value and stunning location.
High, arched ceilings, wooden beams and tiled floors feature in this majestic stone medieval-style building perched on a ridge above Jaen.
The castle is built of beautiful pale stone, its walls falling away in a sheer drop down to the side of the mountain on which it is built. The feel inside the castle-hotel is medieval, with beautifully proportioned spaces: high, vaulted ceilings in the main hall, exposed stone walls, heavy carved wooden doors and arched corridors and windows. Good-sized rooms - there are 45 - have the same classical-Mudejar style: tiled floors, with amazing views of the city; some have wood four-poster beds and balconies. WIFI is available.
The restaurant has a arabic / castle feel and serves typical Jaenese dishes such as ajo blanco (chilled almond and garlic soup), ensalada de perdiz (partridge salad), espinacas a la jienense con huevo (spinach Jaén-style with egg) and ciervo al estilo de Baños (Baños-style venison).
Guest rooms (45 available) are comfortable and furnished with period-look furniture and TVs with satellite channels.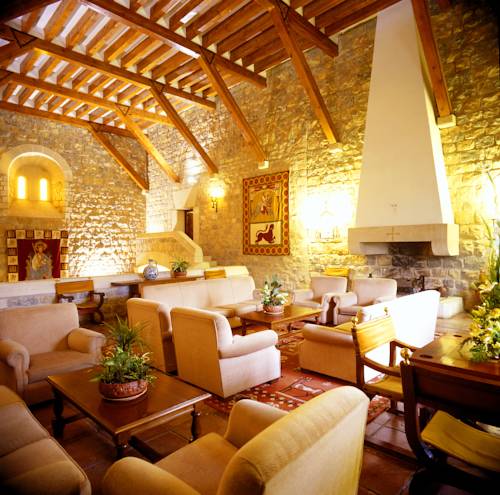 Spacious, homely lounge in the Parador de Jaén
What's its history?
The Parador is built in 1965 on a 12th-century Moorish fortress (extended in the 18th century) which was connected to the city by hidden tunnels. During Arab rule the castle kept the city at peace, until it was captured by Ferdinand III in 1246. He extended the castle, which held out against the repeated attacks by the Moors over the next two hundred years, until all the Moors were expelled from Spain.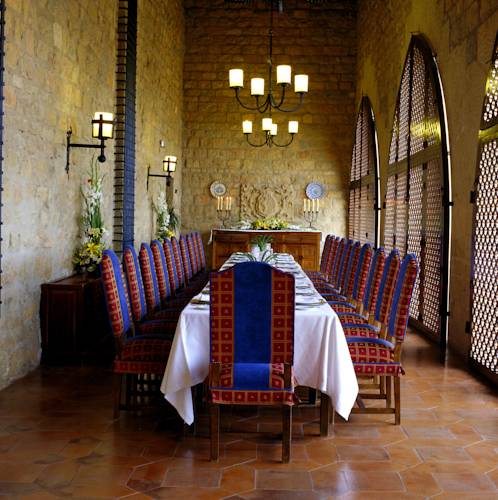 Parador de Jaen
What is there to do?
The parador has a large outdoor swimming pool, which is open in the summer.

The castle complex where the parador is located also has an interpretation centre with visual displays and information films, and some rooms and buildings can be visited, including the Torre de Homenaje.
You will notice olive oil prominently in Jaen's gastronomy, as this is the province with more olivos than any other in Spain - try the many cakes, bread and other dishes made with "liquid gold".
Jaen city has a magnificent square Gothic cathedral, with has a sacred cloth, as well as the oldest surviving Arab baths in Spain.
Alternatively, you're close to the Sierra Magina mountains, with cave paintings, as well as fauna such as eagles, ibex, wild boar and lynx. Further away is Cazorla National Park (which has its own parador), ideal for nature lovers, walkers and climbers alike.


Book Parador Jaen
How to get there
The Parador de Jaen is on the N323 Bailen-Motril road, or the N324 Cordoba road.
Destinations