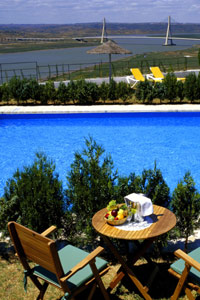 Where the Guadiana meets the Atlantic.

Book Parador Jaen
Ayamonte Parador
The outstanding feature of the Ayamonte Parador in Huelva province are the views of the wetlands where the Guadiana River meets the Atlantic. The Parador sits on a small hill overlooking the village of Ayamonte, the river Guadiaro, Portugal and as you sit on the terrace you can also take in the spectacular suspension bridge opened in the 1990s that spans the river  between Spain and Portugal.
If one word could some up the architecture and decor at the Ayamonte Parador, it would be "contemporary". Rather than focusing on historical monuments, this hotel aims to make this lovely seaside area accessible to visitors. It's a good base for exploring the villages of the Algarve in Portugal and enjoying the unbeatable beaches of Huelva in Spain.
Keep in mind that this area is known across Spain for its fresh seafood. The Parador kitchen turns out excellent fare in this department and you would do well to try some of the local dishes.

Location
Avda. de la Constitución, s/n, Ayamonte Huelva
Destinations