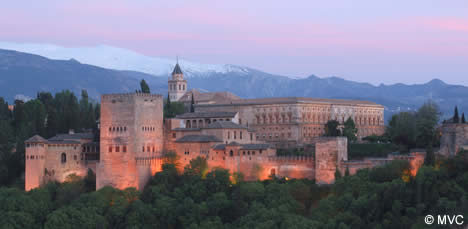 Cerro de los Mártires - Hill of the Martyrs
Just outside the Alhambra walls, at the southern end of the hill, is the Cerro de los Mártires, the Hill of Martyrs, where many Christian captives suffered and perished in the Moorish dungeons. A Carmelite monastery was founded there after the conquest, and was home during some years to the mystical poet San Juan de la Cruz, as testified by this memorial to the author of one of the great works of universal poetry, The Dark Night of the Soul.
After the monastery was expropriated in the 19th century, a wealthy businessman bought the site and, after demolishing the monastery, built a villa and gardens in the romantic style.
A few steps away is the Calle de la Antequerela Alta, where composer Manuel de Falla lived for a decade. The house has been made into a charming museum full of mementos of the author of The Three-Cornered Hat and El Amor Brujo. Lorenzo is especially fond of this place because it is so suggestive of one of Granada's richest cultural periods, and has created a page especially for the Casa-Museo Manuel de Falla.
Las Torres Bermejas
The "vermillion towers" stand nearby at the far end of the hill, overlooking the city to the south and across the Cuesta de Gomerez to the Alcazaba, on the north. This was the site of the first fortress of Granada, built by the Jews who settled here before the birth of Christ.
Hotels
Hotels near the Alhambra
Click here to stay at a hotel located in the Alhambra gardens or within walking distance of this magnificent attraction, offering guided tours and much more!