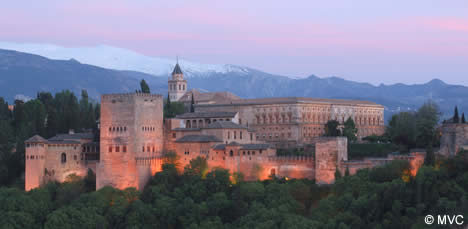 The Puerta del Vino
The Puerta del Vino - "Gate of Wine" - stands next to the Palace of Carlos Quinto, on the "esplanade" above the Gate of Justice, and was once part of an inner wall which divided the palaces from the city - medina - of the Alhambra, and, as such, was closed every day after sundown. This is why it does not have the protective L-shaped passageway and, also, why it is so richly decorated with once-colourful geometrical motifs.

Puerta del Vino, a very pretty gate has, since the 19th century, been a favourite subject for British and French water colour artists. Claude Débussy was inspired by one of these images to compose a charming piano piece with a suggestively Spanish flavour called La Puerta del Vino, even though he himself had never set foot south of the Pyrenees.
The name is, once more, a mistranslation by the Christians who took the city in the 16th century, and whose knowledge of Arabic - a language in which the slightest inflection can change the meaning of a word - was largely oral and limited to the lingua franca of trade and peace treaties.
It would have been unthinkable for Granada's Moors to associate one of their edifices with something as sinful as wine, even though they were accused by their pious North African cousins of succumbing to the temptation of drinking it. Like the name of the castle itself, Puerta del Vino probably means "Gate of Alhamar", for the Sultan who founded the Nasrid Dynasty.
Next page > Alcazaba or Mexuar (Nasrid Palaces)
Hotels within the Alhambra's grounds
Hotels within the Alhambra's grounds

This itinerary was written for Andaluca.com by Lawrence Boheme author of "Granada, City of My Dreams". For, what fascinates us about this universal city is not only its monuments but its marvellous story, "the encounter between Moor and Christian, gypsy and Jew, medieval and Renaissance, glistening snow and Mediterranean sun. Lawrence Bohme, poet, illustrator and curious traveller, has filled these pages with luminous descriptions and drawings, the culmination of forty years of wanderings through the palaces and labyrinths.