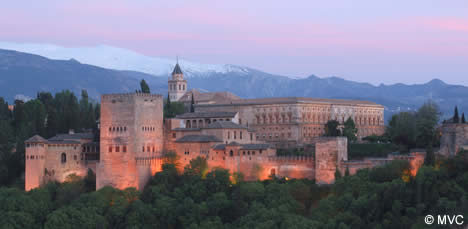 Mexuar
Ironically, the only unbeautiful room in the Alhambra is the one which we see first, as we enter the gate of the Nasrid Palaces. The Mexuar was the public reception hall of the Alhambra, where the Sultan and his visirs heard the requests of the populace, who climbed up from the Albaicin through the Gate of Arms. But since the Mexuar is the building closest to the great esplanade where Carlos Quinto decided to build his palace, it was used as the residence of the many generations of architects who worked on the colossus through the 16th and 17th centuries, and was thus greatly disfigured. Later, a baroque chapel was installed (and subsequently removed) to celebrate the visit of King Philip IV, which explains the two royal crowns on the wall below.
The Christian motto painted on the tiles of the wall, PLUS ULTRA, is the battle cry of the conquistadors, as they strove "ever further" to claim lands for the Spanish Empire.
But the Mexuar has a jewel, even if it is not a very authentic one: the Mirhab, or small mosque, which overlooks the city from the back of the reception hall.

It was badly damaged by the explosion of a powderhouse below in the valley, in 1590, and restored in the early 20th century, in the best of taste and with much scientific rigour. Visitors are no longer allowed to enter the Mirhab, but can peek into it from the door, and through the graceful colonnade which frames the view of the Albaicin like a brocaded curtain.
Next page > Royal Palaces
Hotels within the Alhambra's grounds
Hotels within the Alhambra's grounds

This itinerary was written for Andaluca.com by Lawrence Boheme author of "Granada, City of My Dreams". For, what fascinates us about this universal city is not only its monuments but its marvellous story, "the encounter between Moor and Christian, gypsy and Jew, medieval and Renaissance, glistening snow and Mediterranean sun. Lawrence Bohme, poet, illustrator and curious traveller, has filled these pages with luminous descriptions and drawings, the culmination of forty years of wanderings through the palaces and labyrinths.