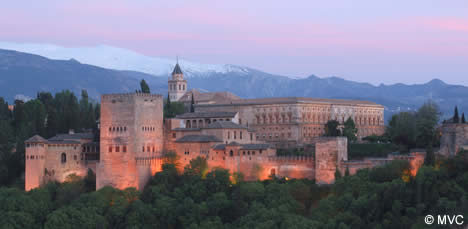 Alcazaba
The Alcazaba, or fortress, is the oldest part of the Alhambra. It was built in the mid-13th century by the Sultan Alhamar, the founder of the Nasrid dynasty, after he fled from northern Andalucia and established what was to be the last Moorish stronghold against the Christian crusaders.
The oldest part of the Alhambra, the fortress.
The most solid towers are those of the Homenaje situated to the south, and the Quebrada at the northeast angle. The most elaborate interior is the Torre de las Armas. However all are surpassed by the impressive Torre de la Vela.
Torre de la Vela
Torre de la Vela.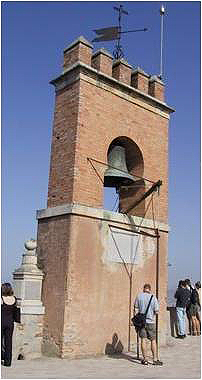 The bell tower and viewpoint.
The largest tower of the fortress is the Torre de la Vela, so called for the great bell which hangs above it. When the Catholic Monarchs took Granada, they brought with them from Castile a bell called La Vela, "the sentinel", to ring the victory chimes from the Moorish castle. In the struggle between the creeds, the bell had become the symbol of Christianity, as the lamps of the mosques were the symbol of Islam.
La Vela has always been rung on great occasions of state, as well as to commemorate the Día de la Toma, the day of the conquest ("the taking") of the city, every January 2. But until quite recently it also played a role in the city's economic life, regulating the opening and closing of the sluice gates which flood the acequias on the plain below.Its silhouette is a significant symbol to the people of Granada.


From the top of the Torre de la Vela, we gaze across the river valley at El Albaicin, with the Mirador de San Nicolás, marked by the white tower of its church, in the upper right hand corner.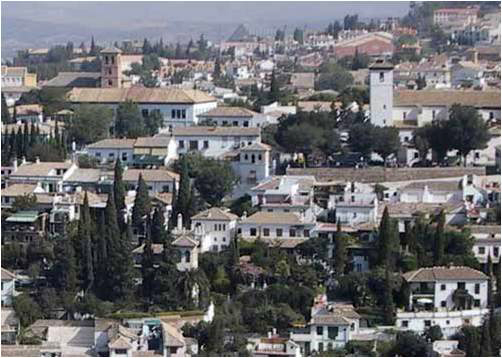 The view over the valley from the Torre de la Vela.


Below us flows the River Darro, whose picturesque right bank - called the Carrera del Darro - is lined with ancient bridges, convents and palaces. Below are two photos taken from the Torre de la Vela, with the Chancillería on Plaza Nueva at the far left of the southern one, and the façades of the houses overlooking Paseo de los Tristes, at the far right of its northern companion. They overlap between Puente del Cadí and Convento de Zafra.

View of the city from the Torre de la Vela.
View over the city and River Darro from the Torre de la Vela.
Jardin de los Adavares
At the entrance of the Alcazaba is the delightful "Jardín de los Adarves", also called "Jardin de los Poetas". From its battlements our gaze is drawn to the towers of the hill in the foreground. They are the "Torres Bermejas" (red or crimson towers), the "castle of great worth" of a famous border ballad. Their bewitching name is evoked in the music of Albéniz or Joaquín Rodrigo.
Next page > Carlos V Palace or Mexuar (Nasrid Palaces)
Hotels within the Alhambra's grounds
Hotels within the Alhambra's grounds

This itinerary was written for Andaluca.com by Lawrence Boheme author of "Granada, City of My Dreams". For, what fascinates us about this universal city is not only its monuments but its marvellous story, "the encounter between Moor and Christian, gypsy and Jew, medieval and Renaissance, glistening snow and Mediterranean sun. Lawrence Bohme, poet, illustrator and curious traveller, has filled these pages with luminous descriptions and drawings, the culmination of forty years of wanderings through the palaces and labyrinth