Leatherwork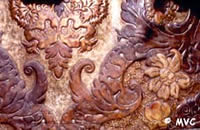 Embossed Leather
In the Middle Ages, the leather workers of Cordoba made the city universally famous for the high quality of their tanning and embossing techniques. Some workshops still survive which use the ancient methods, in both Cordoba and Granada, while leather goods are made all over the region (purses, wallets, belts etc.). One of Spain's best places for leather goods is Ubrique, in the province of Cadiz, world-famous for the quality of its fine purses and travel bags.
Andalucia's saddlers are also highly regarded for their tooled leather fittings. Andalucian leather workers are also famous for their saddlebags, although this production has declined in recent years. However, leather articles for hunters, such as game bags, gun cases, chaps and bags, are very popular.
Leather workers in Andalucia
Special mention should be made of the handmade boots produced in the town of Valverde del Camino in the province of Huelva, excellent for riding. A wide range of handmade footwear can also be found in Almeria, Antequera (Malaga Province) and Montoro (Cordoba Province).