El Robledal to La Maroma Walk
Sendero El Robledal to La Maroma - One of the most well known walks, this challenging, linear walk is 8.5km long, ascending 1,000m, and takes around four hours. It climbs the northern face of the park's highest peak, La Maroma. Take the C-335 and turn off down a forestry track at the Venta de La Alcaicería. Once at the Casa Forestal de Robledal Alto, take another track that goes south towards Los Barracones, a rural tourism centre. Park here, because cars aren't allowed any further, and start walking.
About half a kilometre later, there is a fork with a signpost indicating the left track for the route to the summit of La Maroma. The track passes through pine and holm oak woodland. After 1 km there is a fire break and shortly afterwards the track changes into a path. Soon the path goes through a narrow v-shaped rocky area, known as the Contadero (counter), because it was used for funnelling sheep and cattle through, up to the mountain, so they could be counted more easily.
After the Contadero the path climbs more steeply. Around an hour and a quarter after starting the walk, look out for the Chorreras del Perro, where in winter water cascades down over sheer slopes of marble. To the right is the limestone peak of the Pico del Sol, at 2,000m.
There are more yew trees here and a waterfall called the Salto del Caballo. Take the left path and 15 minutes' later there's a spring. Ten minutes later the path reaches the peaks that divide the provinces of Malaga and Granada, with superb panoramic views across the park.
The peak of La Maroma is snow-covered in winter, but has some chasms that are filled with snow all year round. There are magnificent views over the whole park. The descent is along the same path.
For more on walking the Sierras Tejeda, Almijara y Alhama: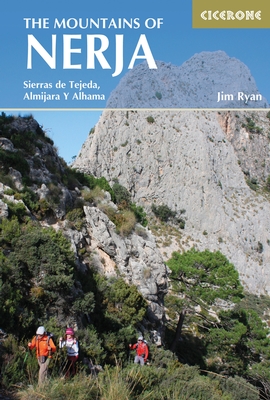 The Mountains of Nerja
Guidebook, by Jim Ryan, to the Sierras de Tejeda, Almijara y Alhama mountains in the Spanish region of Axarquía. The 24 day walks are accessible from the holiday towns of Nerja and Vélez-Málaga on the Costa del Sol. Routes range from easy strolls to strenuous climbs. The mountains are largely limestone, with some summits reaching over 2000m. Buy a copy online of The Mountains of Nerja