THE WALK OF THE THIRSTY BEAR (SHORT ROUTE)
Distance: 16 kms
Time Required: 5.5/6 hours
Rating: Medium
Maps: Alpina 1:400000 Sierra de Cazorla or IGN 1:50000 Cazorla 928
Water: at Parador @ 1 hr 50 mins & Fuente del Oso @ 2 hrs 20 mins
This tremendously varied walk makes for a great full day excursion. Leaving the pretty village of La Iruela you first climb up past the Alberquilla spring before contouring round the northern flank of the Escribano. You then cut up and over a high pass before descending through pine forest down to the Parador. You could break here for coffee or a snack: as a walker you'll be as well received as if you were wearing a suit. From here you have a short section of tarmac to negotiate but there are great views as you descend and you'll see virtually no traffic. Once you arrive at La Fuente del Oso you once again climb along a wonderful mountain trail that cuts up from the Guadalquivir valley to a high pass. You are first treated to wonderful views up the Guadalquivir Valley and then, beyond the pass, out across the sea of olive groves that stretches west from Cazorla. The last part of the walk takes you along the path you followed earlier in the day, leading you steeply back down to La Iruela and its spectacular Templar's castle.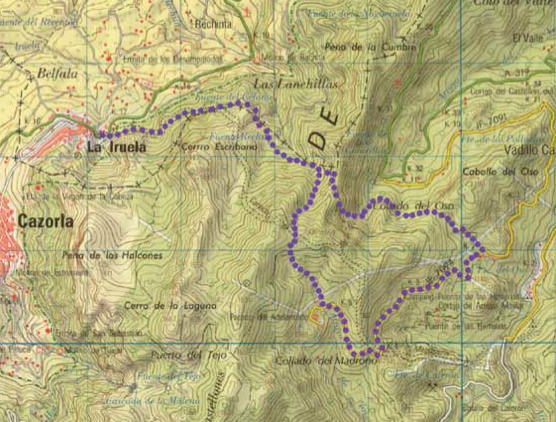 CAZORLA The Walk of The Thirsty Bear
The Route
The walk begins in La Iruela at the base of the castle by a pedestrian crossing on the road leading from Cazorla up into the park. There's plenty of parking space for cars. Heading north away from Cazorla you soon come to a double-spouted spring and, just beyond, a wafer-bricked  building. Here cut right away from the road and climb up a flight of narrow steps. They lead to a  narrow path which, climbing, cuts in front of a steep rock face. There are great views back to the castle of La Iruela. At first the path runs more or less parallel with the road down to your left.
The path climbs up into a stand of pines. After cutting sharply to the right it meets another path where you should bear right and continue climbing. Soon you reach a junction with a broader path. Turn left and, continuing along the path, you pass by a spring, La Fuente de la Alberquilla (17 mins). It is sometimes dry. Soon the path comes to a fork. Ignore the lower option but rather bear right and upwards, following G.R. waymarking (35 mins). After climbing steeply you reach a point where the path divides (1 hr).
Here turn right and continue climbing. The path zigzags up and crosses an open ridge where it passes by a huge cairn and eventually leads you to the top of the pass (1 hr 25 mins). The path, having arched right then left, crosses a more open area then begins to descend. It widens to become a track and shortly divides. Don't take the right branch which leads up to El Puerto del Tejo but rather cut left and continue your descent along a broad forestry track. The track leads down to a stone building where there's a map of the park. Just beyond this building bear hard left. After descending for 50m you reach a road that cuts in right to the Parador (1 hr 50 mins).
You could head right for refreshments at the Parador. Otherwise bear left along the tarmac road, still descending. There are great views across the valley to the rugged massif of the eastern flank of the Guadalquivir valley. Having passed a group of forestry buildings and a picnic area you reach the Fuente del Oso, 'The Spring of the Bear' (2 hrs 20 mins).
Just 25m past the spring, where the road arcs right, cut left at a G.R. post onto a path which climbs steeply upward into the forest. Soon you pass a green pylon with a metal sign for Alta Tensión. At first you follow a line of pylons upwards. To your left is the Cerro de la Torquilla. You come to a fork at a point where another wooden posted electricity line crosses above you.
Here angle left and continue climbing up through the pine forest towards El Collado del Oso. Red and white G.R. waymarking reappears. This is a stunning section of path and easy to follow. The path drops down for a short distance, crosses a scree slope then resumes its ascent. There are long views up the Guadalquivir valley, over to your right. Eventually you pass through El Puerto de los Arenales (1358m) This could make a good picnic spot (3 hrs 20 mins). Beyond the pass the path runs level for a short distance before angling hard left then descending.  Some 500m beyond the pass you reach the junction that you passed earlier in the walk. From here retrace your footsteps back at your point of departure (4 hrs 10 mins).
Walking in Andalucia
This is an extract of one of the many walks featured in Guy Hunter Watts' book "Walking in Andalucia". Walking in Andalucía is a 260 page full colour guide to some of the very best walks in southern Spain, taking the walker on 34 routes - all starting and most finishing in beautiful villages. Buy a copy online of Walking in Andalucia.
"Walking the Mountains of Ronda and Grazalema" by Guy Hunter Watts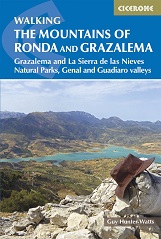 The dramatically situated town of Ronda can make a great base for a walking holiday in the mountains of Andalucía, as can any one of the picturesque 'pueblos blancos' (white villages) that nestle among the surrounding hills. This guidebook presents 32 mainly circular walks in the Ronda region, covering the town and its environs, the Natural Parks of La Sierra de Grazalema and La Sierra de las Nieves (both UNESCO biosphere reserves), and the Genal and Guadiaro Valleys. Clear route description is illustrated with mapping, and the route summary table and 'at a glance' information boxes make it easy to choose the right walk. There is the option to buy a printed book, an eBook, or both as one deal.
Buy a copy online of Walking the Mountains of Ronda and Grazalema
Other walks by Guy Hunter-Watts
Destinations