Sendero Frigiliana to Fuente del Esparto
Sendero Frigiliana to Fuente del Esparto - This 5.5km-long linear walk is relatively easy and takes about two hours. It starts in the village of Frigiliana. Look for the Guardia Civil building; to the right-hand side of this is the beginning of the sendero (path). It goes down to the Higuerón river, which is in a steep-sided rocky ravine. The path goes past the Pozo Batán, veers off to the left and then starts to climb up the slope. This is a difficult part of the walk, because the path here is sandy which makes climbing tricky.
The path goes through some pine trees. After 20 minutes is the Cruz de Pinto crossroads, where there are great views north up the Higuerón river and surrounding hills. The path, passing through scrubland, now gets easier and there are often mountain goats here.
Then there are pine trees again and sharp, jagged rocks at the top of the ravine. After an hour, the path arrives at the Chillar river gorge, one of the most impressive in the province. Its sides are often vertical and rise to 300m. The walk through the gorge takes around 15 minutes, then there is the final climb. The path crosses a channel that takes water to the Chillar hydroelectricity power station and 30 minutes later it has climbed up to a forestry track.
Here is the Collado del Apretadero, which divides the Chillar and Cazadores gorges, and it is ten minutes on from here. Then you can either turn back or continue down to El Pinarillo campsite, 4km from the Nerja caves, from where there are buses into Nerja (to avoid walking along the busy main road).
For more on walking the Sierras Tejeda, Almijara y Alhama: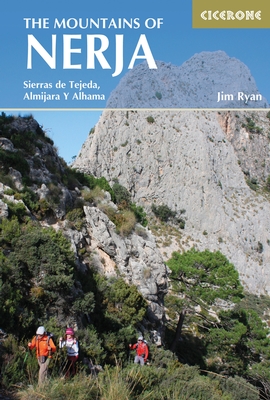 The Mountains of Nerja
Guidebook, by Jim Ryan, to the Sierras de Tejeda, Almijara y Alhama mountains in the Spanish region of Axarquía. The 24 day walks are accessible from the holiday towns of Nerja and Vélez-Málaga on the Costa del Sol. Routes range from easy strolls to strenuous climbs. The mountains are largely limestone, with some summits reaching over 2000m. Buy a copy online of The Mountains of Nerja