Sendero Río Verde
Sendero Río Verde - This circular route of 7.35km is moderately difficult and takes around three and a quarter hours. It is on the far eastern edge of the Sierra de Almijara, with superb views of the mountains, and starts near the source of the Verde river.
The path starts at Km 28.7 on the Almuñécar-Granada road (via Otívar). Coming from Granada, the road passes Los Prados de Lopera and goes through a tunnel. Before the Parador and petrol station at La Cabra Montés is the Km 28.7 post. The path goes up some stone steps, across a hillside and goes through an area with eroded rock formations characteristic of this limestone landscape. The trees here are mainly young pines, holm and gall oaks, junipers and strawberry trees.
On the right at the bottom of the Chortales gully are some beehives, which are often seen in these sierras. Look out for mountain goats, particularly first thing in the morning or just before the sun goes down.
After descending for around 50 minutes, there are some steep steps. These lead down to some impressive waterfalls, the Chorreras de los Palos, also known as the Cascada de los Arboles Petrificados (the Waterfall of the Petrified Trees). To the right-hand side of the waterfalls is a small cave that is full of incredible stalagmites and stalagtites. The path continues down on this side, where the vegetation changes from the first stage of the walk, to box, heather, willow, fig trees, oleander, ferns and wild olive trees.
The path crosses the Arroyo de las Cabrerizas and follows the left-hand bank for 200m before crossing a forestry track. Fifty metres on there is the Cabrerizas fountain. After passing a weir, there is the second waterfall of this walk, and after crossing and re-crossing the Arroyo, there is the third waterfall, the 30m-high Cascadas del Barranco de Funes. After this is a crossroads of forestry tracks; take the Las Cabrerizas one that climbs up to main road at La Cabra Montés, about 2½km away. This brings you back on to the main road about 1½km south of where you started.
For more on walking the Sierras Tejeda, Almijara y Alhama: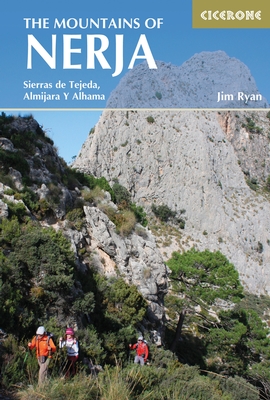 The Mountains of Nerja
Guidebook, by Jim Ryan, to the Sierras de Tejeda, Almijara y Alhama mountains in the Spanish region of Axarquía. The 24 day walks are accessible from the holiday towns of Nerja and Vélez-Málaga on the Costa del Sol. Routes range from easy strolls to strenuous climbs. The mountains are largely limestone, with some summits reaching over 2000m. Buy a copy online of The Mountains of Nerja