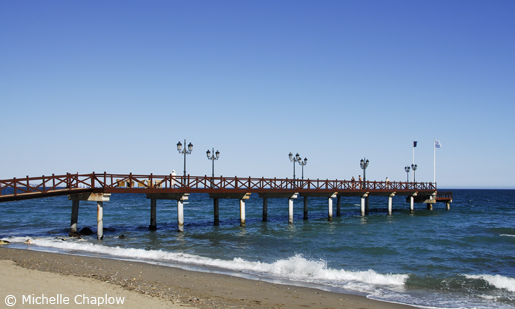 Playa Nagueles is popular with the the rich and famous who come to Marbella.
Playa El Ancon is the beach to the west
Playa Nagüeles
Nagüeles beach is a very popular beach found on Marbella´s famous "Golden Mile" along the paseo maritimo. It is approximately 1.5km long and thank to a espigon (breakwater) at the west end, it is wider than others in the area as the sand is retained. Due to its massive popularity this beach is always very busy, especially during peak summer months.
Nagüeles beach is very popular with the rich and famous, and if you want to do some celebrity spotting, this is the beach for you. It is next to the Hotel Puente Romano and Marbella Beach Club so there are always a lot of people around and often there are events going on. There is a wooden jetty for small boats that belongs to the Marbella Club hotel. You can wander along it and look back a the beach and the Concha mountain behind Marbella 
It has ample facilities including showers, WC´s, Chiringuitos including the famous Trocadero Playa, sun loungers, parasols and pedalo´s for hire. This beach is monitored by life guards in summer. The east part of the beach is also called Playa Casablanca.
Playa Fontanilla is the Marbella beach to the east