Alamedilla

Alamedilla is a village in Granada province, whose name means "little elm avenue". It is made up of five areas: Alamedilla, La Hacha, Los Oqueales, El Peñón y Rambla de los Lobos.
Situated in the region of Hoya de Guadix y Marquesado, Alamedilla has its origins in the Moorish-era hamlets which were bestowed upon noblemen from the north of Spain after the Christian Reconquest.
THINGS TO SEE

The most important monuments in the village include Puente del Hacho, built at the end of the 19th century and situated on the road from Guadahortuna to Alamedilla. This is an iron bridge, 624m long and 50m high, designed by the studio of Gustavo Eiffel (like the Lonja del Barranco market in Seville) and declared a national historic monument.
The Asunción church, which dates from the 16th century, is one of the earliest Reconquest churches built.
Alamedilla is one of the villages in Granada province with most evidence of prehistoric human activity, such as the archaeological site at Cortijo del Hacho, which is a Bronze Age Necrópolis from 2700BC.
Four km from the town is Cortijo del Peñón, where you can see the Piedra de la Solana, a natural fort 1233m high, made up of three enormous flat stones, which was a refuge in medieval times. Ceramics remains and tombs were found there.
Handicrafts
Handicrafts in this town are based around esparto grass, which the older inhabitants use to make baskets, although these are made as much for their own use, as to sell.
Gastronomy
The gastronomy of Alamedilla is heavily influenced by Moorish customs which were kept alive even after the Reconquest. The most typical dishes are gachas (a sort of porridge), roast lamb or kid, and ribs in olive oil. Sweet dishes are based around almonds. But the star product of the village is its olive oil, with the DO "Montes de Granada".
FESTIVALS

The fiestas of Alamedilla take place around 19 March, in honour of Santo Cristo de la Luz; but the most important festival is in mid-August - a cultural week of theatre, music and cinema. On 15 August is the Fiesta del Emigrante, dedicated to those people from the village who now live elsewhere.
Location

Alamedilla is 78 km from Granada - take the A-44 towards Jaén then the Iznalloz exit to the A-323. After Guadahortuna, continue on the GR-NE-30 and take the GR-NE-1 to the village.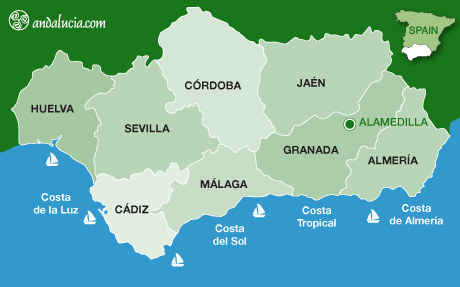 Destinations