Benalúa de las Villas
Like many towns in Granada province, Benalúa de las Villas was repopulated with inhabitants from other parts of Spain during the Christian Reconquest.   The town, located in the area of Las Montes, is the centre of olive oil production for the surrounding area through the San Sebastián co-operative.
Things to See
Benalúa de las Villas has various archaeological remains, like Cerro del Cántaro, an Iberian settlement, and El Paraje de la Pedriza. Roman coins have been found as well as a bust of the Emperor Trajan. Another monument to visit is the Encarnación church, which was built recently.
Handicrafts
Over the years, handicrafts have been gradually disappearing until nowadays only the elderly residents make objects for their own personal use.
Gastroniomy
Benalúa de las Villas produces olive oil under the DO Montes de Granada. Also important are gachas (wheat paste), breadcrumbs and potato stew, as well as pastries such as egg donuts, milesios, cherries in brandy or syrup, cereals and cold meats.
Festivals
The town's fiestas to celebrate Dia de San Sebastian have been transferred from their traditional date of 20 January, since this fell inconveniently the middle of the olive picking season, to the last weekend of July, so that those who have moved away can attend during their summer holiday. These celebrations include the Toro Chispas, when a boy dressed as a bull runs around the town plaza , with rockets and firecrackers strapped to his back while the devices explode and flash. More conventionally, special religious services are held, along with popular games and prizes.
On the last Sundays in March and April are, respectively, Dia de las Migas and the Romería of Cerro del Cabezo. To celebrate Cross Day on 3 May, many monuments in the historic centre are decorated, while on 16 October traditional Greek games like keretizein, efedrismos, tabbas and astragaloi, are played, as well as herald and trumpeter competitions.
Location
Benalúa de las Villas is around 55km from Granada - take the A-44 towards Armilla, leave at exit 89 signposted Benalúa de las Villas. From there, take the A-403 to the GR-NO-7 which leads to the town.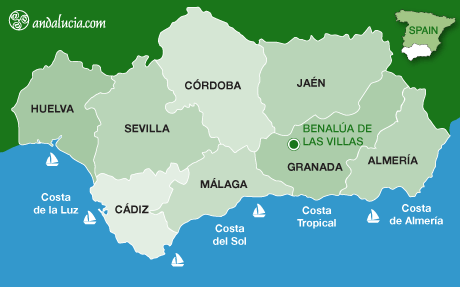 Destinations