Guadalhortuna

by Marta Palomo Hermoso & Fiona Flores Watson
In this Granada town you can see what is known as the primo pobre (poor cousin) of the Eiffel Tower, the Puente del Hacho, built at the end of the 19th century by the famous French architect of the iconic Parisian landmark. 

The iron bridge, which spans 625m and is 50m high, takes us back to the era when trains were the main means of transport between Andalucian towns and cities, although the bridge is no longer in use, as a modern concrete one has been built alongside. The longest iron railway viaduct in Spain, it was saved from demolition by the local townsfolk in the late 1970s.

The village name, Guadalhortuna, means "river of fortune", dating from the Moorish era; the town was located on the border between Moorish and Catholic-controlled areas, and was the scene of frequent skirmishes.

Inhabited since Paleolithic times, Guadahortuna has notable archaeological remains, especially from Moorish times, located close to the river after which the town is named.

The most important building in the town is Santa Maria La Mayor church, which dates from the 16th century. The main door was carved in wood by master craftsman Pedro Machuca, who was also responsible for the Charles V Palace of the Alhambra.

Also worth visiting is the shrine of Nuestra Señora de Loreto, at the entrance to the town, which offers an excellent viewing point from which to see the entire village. You shouldn't miss the shrine of Cortijo de Navazuelo or of Doña Mariana.

In addition to these cultural attractions, visitors can also enjoy the beautiful surroundings of the town, ideal for hiking.
Local crafts include ceramics, while Guadahortuna's gastronomy features pulses, produce from local kitchen gardens, and olive oil. The preferred dessert locally is leche frita.
Festivals
The main celebration in the town is the Feria del Ganado, held in mid-September, the only such livestock fair which is still held in the area.
Another well-known festival is the Fiesta del Emigrante, in August, in honour of those who have left to go and live in other cities.

Guadahortuna isa round 60km from Granada city. Take the A-44 towards Guadix and then the A-323 until the turn-off to the town.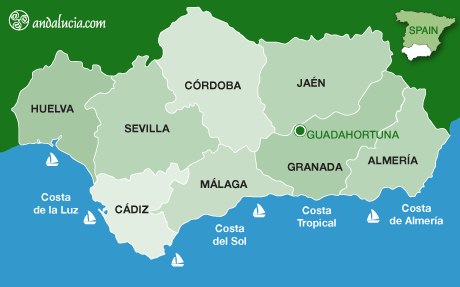 Destinations