This town in the area of Guadix and El Marquesado was on the border between Christian and Muslim territory for many years.
You can visit the residence of the Marqués de Campotéjar, a 16th century Mudejar building known as Casa Grande.
Like most of the towns in this area, it has a church dating from the 16th century: iglesia de Nuestra Señora de los Remedios, in Mudejar style in honour of its patron saint.
Campotéjar has a pillar from the same era which has been converted into a fountain. The archaeological remains of Cerro Castellón prove that this area has been inhabited since the Copper Age.
Handicrafts of the local townsfolk are based on modern carpentry.
In terms of gastronomy, the most well-known dishes are ropa vieja, gachas de harina, migas de segaor, "guisao" de patatas, torta de carda, roscos de huevo and roscos de vino.
The beginning of spring marks the start of Campotéjar's major fiestas, featuring "el tirador, la carretilla y las banderas" which takes place at the end of April. At the same time, the Moors and Christians feria is held, which lasts three days.
Another traditional celebration is "la quema de Judas" and the meeting between the Virgen and the Niño Jesús on Resurrection Sunday. In late August, early September there is a traditional feria.
Campotéjar is located 48km from de Granada. Take the A-44 towards Jaén and take exit 84 and head down Avenida de los Montes Orientales to arrive in the town.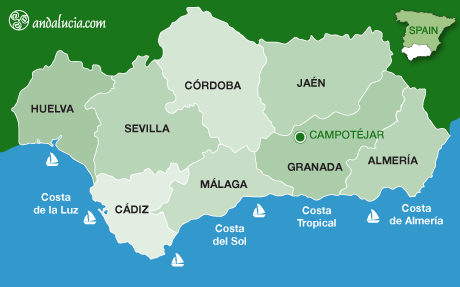 Destinations