Gobernador
Gobernador is a village in Granada province located at 1,000m altitude. Gobernador also has archaeological remains from Roman and Arabic times. The town is close to the Genil and Guadiana Menor rivers, and is situated at around 1000m above sea level. After the Reconquest, the town became the property of Governor Don Francisco de Molino, after whom Gobernador was eventually named.
THINGS TO SEE
Megalíthic necropolis
The most well-known site is Pradillo, a megalíthic necropolis, where Islamic coins and millstones were also found. In this era, it was known as Montarun. During the Reconquest, the town was the object of frequent incursions from Cazorla by the Christians. When the Moors were expelled, it was repopulated by people from the north of Spain, and is now located on what is known as the Route of the Nasrid. 
Iglesia Parroquial de San Sebastián
The most important church is Iglesia Parroquial de San Sebastián, from the 16th century, founded by Don Francisco de Molina. It has the oldest mujédar artesonado ceiling in Granada province.
Hiking and Walking 
The town is located in the Montes Orientales, making it an ideal place for enjoying nature, fresh air and the peacefulness of the Granada countryside.
GAstronomy 
Typical dishes include migas, in many different forms. Easter pastries are also popular.
Festivals
The main holidays of Gobernador take place in mid-August, for the Virgen del Rosario; in April is the Romeria de San Sebastian, a new fiesta celebrated for the first time in 2010.   On 13 May is the Virgen de Fátima and in a nearby hamlet, the fiestas and procession of the Cortijo Delgadillo on 12 September. During the Constitución bank holiday, on 6 December, is the matanza or pig slaughter, followed by making sausages and other products.
Location 
Gobernador is around 60km from Granada. Take the A-4 to Guadix and then the C-336 to Píñar, and on to Gobernador.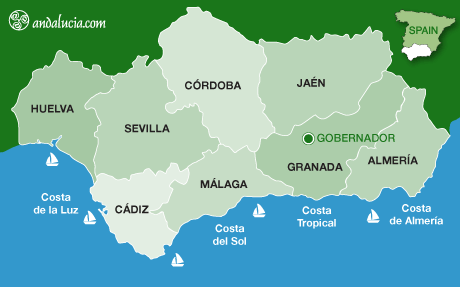 Destinations