Baza Region Altiplano, Granada Province
To visit the village of Cuevas del Campo is to journey into the world of tranquillity and stunning natural countryside. It also gives you the chance to meet the friendly, welcoming people of this traditional, agricultural community. In the north east corner of the Granada Province and at around 130 kilometres from Granada City (home of the Alhambra), Cuevas del Campo is one of the six picturesque villages that make up the area of Baza in the Altiplano region. It covers 97 km2 and has a population of approximately 2,500.
It is in one of most privileged settings in Andalusia and perhaps the whole of Europe, lying in between the Sierra de Baza and the Sierra de Cazorla.
Getting to Cuevas del Campo
By car, take the A92 motorway (Almeria-Sevilla) and then the C-323 (A-315) to Cuevas del Campo.
There are also buses leaving daily from Granada (at 16:00) and several times each day from the town of Baza.
What to expect of Cuevas del Campo
The stark contrasts of landscape and the colourful and deep rooted traditional ways of the people, together with the village setting and cave houses, make this a very interesting place to visit. The surrounding natural environment and beautiful walks and excursions just add to the many reasons why more people are finding their way to this pretty village.
Cuevas del Campo is the youngest of the municipalities in the Baza region, having been formed in 1980. The population is approximately 2,500 and the inhabitants are known as 'cueveños'. The village economy is basically agricultural, with a strong emphasis on olives. The co-operative, 'La Esperanza del Campo' (Tel: 958 718 047), produces some of the finest virgin olive oil in the district. Although traditional agriculture is the main source of income, there is a growing interest from rural tourists, who enjoy spending quiet times and fresh air in this delightful spot.
History
Over many years there have been disputes between the towns of Pozo Alcón (Jaén Province) and Zújar (Granada Province) regarding the boundaries of these two municipalities. The result of a long legal wrangle ended up with the dividing of the territory into three parts, one of which was El Retamar (which is now Cuevas del Campo). Over 30 years the people of Cuevas del Campo wanted segregation from Zújar (which is situated some 20 kilometres away). This was finally granted on the 21st November 1980, when Cuevas del Campo finally became an independently constituted municipality.
Climate
As with the other villages in the Altiplano area the summers are long and dry, with cooler evenings than many other parts of Andalusia. The winters can bring cold fresh days and sometimes snow, but often coupled with bright sunshine.
Places of Interest
The Negratín Reservoir/Lake
For a great family day out, there is the nearby is the huge Negratin Lake which boasts being the largest of its kind in Andalusia, with a capacity of some 546Hm3. The surrounding landscape to this huge oasis is simply spectacular with its semi desert setting and many gullies. On the lake is 'El Negratin Club Nautico (sailing club), where there are many water sports you can participate in – including sailing, canoeing and fishing.
'Barrios' – (old quarter)
The first old quarters to become inhabited were those of Triana and San Isidro. The old farming community used the caves for shelter during sowing and harvest time. It is because there are so many caves in the area that the village became known as 'Cuevas del Campo' (Caves of the countryside). Cave houses are becoming quite fashionable now and many are being renovated and bought as a chic rural hideaway and many are available for rent.
Picnic Areas and View Points
There are two lovely spots where you can spend quality outdoor time with the family having a picnic and enjoying the country air to the full. The 'Hoya de los Corzos' is a specially allocated area with rustic tables, barbeques and water. Another beauty spot is the 'Mirador del Campillo', which has a really good picnic area in the perfect place to take in breathtaking views over the lake as well as the surrounding villages and mountains.
Nearby walks and excursions
There are many beautiful walks and rambles to give you a real feel for the unusually beautiful countryside. Look out for the following 'rutas' (routes):
'Ruta de la rambla de Salomón', over very arrid land.
'Ruta de la Rambla de la Matanza', where the contrast in colours and landscape is stunning
'Ruta de la Calzada Romana', where you walk on the ancient Roman Road of times gone by.
'Ruta of the Coronica', taking you through beautiful pine forests.
Fiestas
Semana Santa (Easter Holy Week) is a special time in most of Andalusia. It is particularly interesting in Cuevas del Campo because since the year 2001, they have had the special added attraction of 'Semana Santa Viviente' where professionals and other villagers act out various parts of the Passion of Christ, including crucifixion and resurrection.
On the 15h and 16th May there is a festival in honour of San Isidro. The Town Hall organises various events. Floats are decked out and the people wear traditional dress and a communal picnic takes place, all in honour of the Saint.
In August (15th and 16th) there is the August fair. There are many local events, including a canoe race, which was first introduced in 1997 and has been a great success ever since.
At the beginning of October is the Fiesta of the Santo Angel. Many years ago there was a terrible plague of locusts and it is said that the Saint was taken out, with the people in procession behind and walked through the village. Apparently this drove away the locusts and so each year this fiesta is celebrated in thanks.
Handcrafts
In times gone by, objects hand-woven from dried grasses, for household use were used in every home. Rush matting and other objects were necessary for every day living. Nowadays, it is the older people who still have the skills to hand weave such items. Baskets, mats, fans, bottle carriers, etc. were all simply essential utensils for every day life, while now they are also sold as decorative items or souvenirs to visitors. There was also local pottery and tile production at one time, which has sadly disappeared with modern times. However, hand-made embroidery and also crochet work is experiencing somewhat of a revival and you can buy some very pretty and unique items in some of the gift and craft shops
Gastronomy
Home cooked meats such as pork, lamb, chicken and rabbit are the base of many of the local dishes, which normally include delicious, locally grown vegetables, pulses and cereals. The recipes are a mix of Arabic and Spanish styles as a result of past influences in the area and most dishes are fairly hearty since this is a hard working agricultural people who live through cold winters. Locally produced prepared, cold meats are a must to try, as well as "patatas a lo pobre" ('poor man's potatoes') – potatoes cooked in olive oil, with onions and green peppers - served with many main dishes. The local organic wine is also well worth trying and makes an excellent accompaniment to a fine country meal. If you have worked up a good appetite from a day walking in the beautiful natural countryside, you may even have room for one of the home made dessert, such as rice pudding with cinnamon. Look out for the word 'casero' (home made) on the menu.
Bars & Restaurants
There are many very good bars and restaurants in Cuevas del Campo. Here are just a few, where you can sample some of the local food and wines and enjoy the local culture and village ambience:
Bar/Restaruant Telephone Number
Mesón-Restaurante "El Negratín" 958 342 202
Bar-Restaurante "La Botica" 958 718 129
Restaurante-Pizzería "El Mesón" 958 718 033
Bar-Restaurante "Pantano del Negratín" 958 342 265
Places to stay
You may wish to stay in Bed & Breakfast accomodation, in which case you could try:
Hostal Pensión "J.R.", (also has a restaurant). Tel: 958 718 171.
Alternatively, you may be interested in staying in a cave house, in which case you could contact either of these to see what's available:
Casa-Cueva "José Manuel Marín Olivares" Tel: 958 718 007
Casas Cueva Tel: 958 718 313
For Further information on Cuevas del Campo, contact the Town Hall:
Ayuntamiento de Cuevas del Campo: Tel: 958 718 051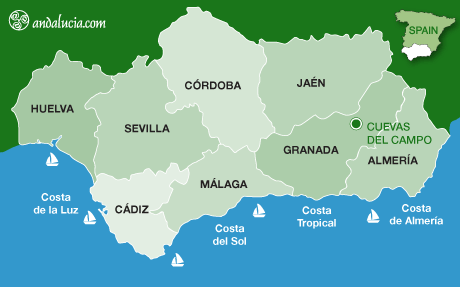 Destinations