Gorafe
by Marta Paloma Hermosa & Fiona Watson Flores

Gorafe is famous for its various dolmens and cave houses as well as its impressive natural environment which is perfect for hiking.
A delight for history-lovers, this village near Guadix, in the Altiplano of Granada province, has the highest concentration of dólmens in Spain and part of Europe – nearly 200 of the prehistoric burial chambers.
The dolmens are located in 10 necrópolis (funerary areas) dating from prehistoric times - late Neolithic and Copper Age - in a region near the river Gor which has always formed a natural border between civilizations. The village has an underground Megalithic Interpretation Centre where you can learn about the motives and meaning of the dolmens, watch a 3D film and learn about early European history.
In addition to visiting these 198 dólmens, visitors can also enjoy the 300 cave-houses in the hillside which used to be used as refuges but have now become the main attraction for local tourism. Many of these unusual dwellings are the legacy from the Almohad people of Los Algarves, from the 12th century, and are still lived in to this day.
From a later period, if by no means less significant, is the Nuestra Señora de la Anunciación church, in mudéjar style although rebuilt on several occasions.
The town is located on steep folds in the earth which culminate in a high cliff crowned by stone walls. This area is known as Los Colorados due to its similarity to the Grand Canyon.
Many activities are available to enjoy the stunning surroundings of this high plateau, such as mountain routes on quad bikes, and hiking – you can follow the signposted Megalithic Route. Nature-lovers will delight in the birds and wild animals such as kestrels, falcons and wild boar. The desert area near the town is popular for astronomy, due to the lack of light pollution.
Local handicrafts in Gorafe are centred around esparto grass, which is made into various household objects by local residents.
In terms of gastronomy, stews and pork products are the star dishes.
The town's celebrations take place in August and on Dia San Marcos rosquillas bendecidas are handed out in the town. One ancient tradition is the Celebración del Arco, on Easter Sunday of Holy Week.
Gorafe is around 94km from Granada capital. Take the A-92 towards Guadix, then the A-92N towards Baza, until you reach Gorafe.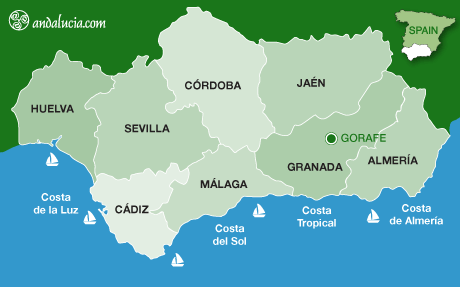 Destinations