Twitter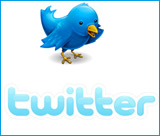 Twitter is big news on the net. It's a micro blogging social media site where people send messages to each other known as 'tweets'. 'Tweeting' is a great way to keep in touch with friends, business colleagues or potential customers.
Back in 2006, on my weekly Radio Internet News spot with Onda Cero International, Twitter started to become a news item. It was always difficult to explain in a few words and I must confess, I had little interest in the new 140 character medium.
My interest changed when I realised it had reached a critical mass. At the last ICANN conference in Sydney I found myself keeping up-to-date with 'tweets'. It was like having spies in other seminars taking place simultaneously in the other rooms. I even traced the (then rumoured) identity of the organization's new CEO.
It isn't just a way of keeping track of what friends are doing and what is being said about a specialist subject. It is also another parallel medium for businesses to get the word out - for free! As you read this article thousands of 'tweets' are being sent around the globe.
However, simply sending out advertising messages would be seen as negative. If Twitter has an Achilles heel it may be that in time it becomes inundated with adverts and spam. For now though, any business would be well advised to learn how to use the medium.
Here are my suggested small business tips (from the Twitter Book by Tim O'Reilly and Sarah Milstein):
Have clear goals, don't just jump in a 'tweet'. Watch first. See what other brands do.
Integrate with your other mediums such as web sites and blogs.
Pace yourself, be consistent. Start slow and build up.
Decide whether to reveal the person behind the business 'tweets'. Gurus say yes, because most customers don't like faceless entities.
Be conversational and use Twitter in the way that you can't with other PR mediums.
Work out the various uses of a # hashtag and how to use @message to reply to somebody in particular, how to 'retweet'.
'Retweet' your customers and offer them solid customer support.
Twitter in 2009 has 10 million avid users. What an incredible market place!
Studies have shown that most 'tweets' and 'retweets' occur on Tuesdays, Wednesdays and Thursdays - so that's when more attention will be paid to your tweets.
Don't just post information about your company, instead, think of it as a way to exchange mutually interesting information.
Link creatively to your own website and use URL shorteners like bit.ly to track click-throughs to your website.
Let people find the best deals, promotions and sales. Highlight new content.
Report problems and suggest resolutions.
In the longer term you may wish to engage journalists and PR people.
Most importantly keep the 'tweets' informative and fun.
Whatever way you decide to use Twitter, be it as a follower or with your own active Twitter account, just enjoy it!
Twitter and Andalucia.com
| | |
| --- | --- |
| You can follow the English version of our Andalucia.com 'tweets' | |
| You can follow the Spanish version of our Andalucia.com 'tweets' | |
This page was written in 2009, it has not been updated and is archived