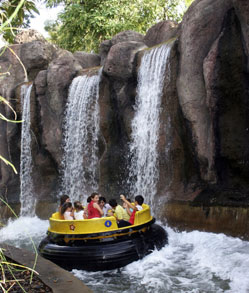 Exciting water rides at Isla Magica, Seville.
Top 10 family Activities
Everyone loves a day on the beach with the kids, but if you fancy a change of scene there's a surprising variety of activities available in Andalucia, from swimming with sea lions to visiting a Wild West town, or riding a 100-year-old train.
1) Isla Magica, Sevilla
At this New World-themed amusement park in Seville, in the old Expo 92 site, plenty of thrilling rides and splashy water whizzies will keep all ages happy, as well as a new 3-D Mapping show.
2) BioPark, Fuengirola 
Seeing mighty wild beasts is a thrill for any child, and here you can see the animals in highly original settings of famous buildings. Species include gorillas, orangutans, tigers, leopards, Pygmy hippopotamus, tapirs, meerkats and lemurs (a must for young Madagascar fans). You can also visit at night.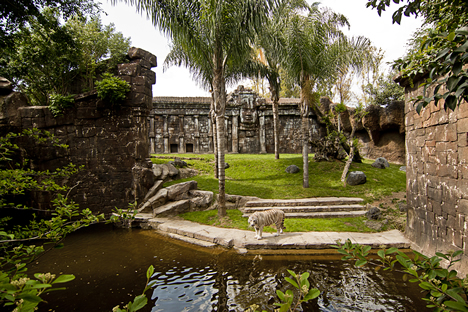 Bioparc Fuengirola
3) Tivoli World, Benalmadena
This place has it all - rides, gardens, concerts and shows. A one-stop-shop for family entertainment.
4) La Reserva, Castillo de las Guardas 
The wild west, located 50 km north-west of Seville © Michelle Chaplow
Drive around the park as zebra, emu and antelope cross the road in front of you, or take the train; feed the goats; see a birds of prey demonstration and a sea lion show.
5) Selwo Marina, Benaldamena 
As well as the usual fishy features, plus added Amazonian attractions, this marina offers the chance to swim with sea lions and meet penguins and dolphins close-up. A fabulous birthday treat for children (and grown-ups) of all ages.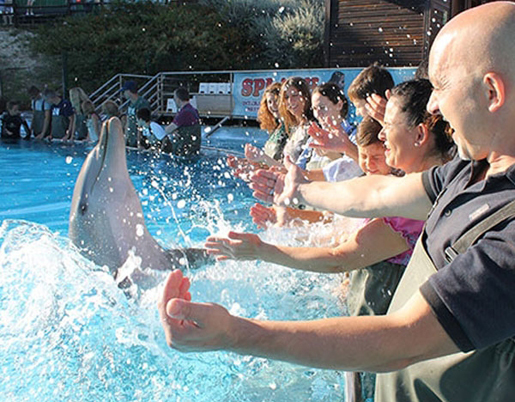 Interact with the dolphins at Selwo Marina.
6) Rio Tinto Mining Park, Rio Tinto 
A less conventional day out - learn about these 3000-year-old mines, go inside a mine where the minerals were extracted, ride the railway which took them down to the coast, and see the town's original 19th-century British barrio.
7) Butterfly Park, Benaldamena 
One of the Costa de Sol's newest attractions, this small but fascinating centre offers the chance to see these beautiful creatures at all stages of their development.
8) Muelle de la Carabelas, Palos de la Frontera 

Monument to Christopher Columbus, Huelva.
Columbus sailed to the New World from here in 1492 - see the replicas of his boats, and find out about the Spain he left behind, and the native people he found.
9) Whale-watching, Tarifa or Gibraltar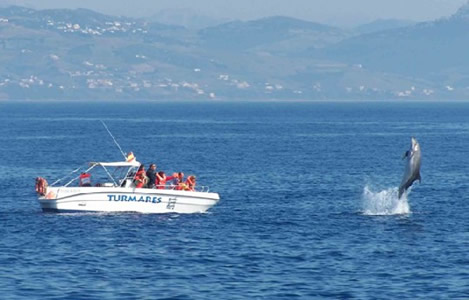 Get up close and personal with dolphins and whales.
Take a boat ride into the Straits of Gibraltar to enjoy the majestic sight of dolphins and whales swimming in the wild.
10) Oasys Theme Park and Fort Bravo (Texas Hollywood), Tabernas
See where Dr Who's A Town Called Mercy, Lawrence of Arabia, and The Good, Bad and the Ugly were filmed, in the middle of the Almeria desert.