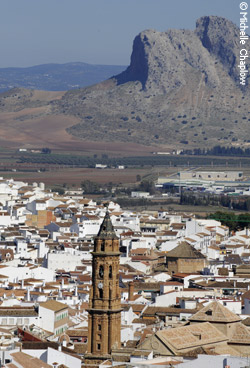 Lover's rock, Antequera and the church
of San Sebastian
Antequera Monuments
The city of Antequera contains a wealth of fascinating monuments.
Visit the recently excavated Roman baths, the magnificent Renaissance church of Santa Marí­a la Mayor Church, the Church of Nuestra Señora del Carmen, the 19th century bullring, and the Arch of the Giants, built in 1585, which leads up to the 13th century Moorish castle.
We also recommend the Convento de las Descalzas, the Barefoot Carmelitas, on the square of the same name. Inside the heavy wooden entrance, there is a small counter with a display of bakery products and prices, next to a revolving wooden door. You pull a rope which rings a bell, and then hear a woman's voice say "Sí" after which you give your order and place your money on the tray. The hidden nun then spins the tray around, with the pastries emerging from the door.

Just outside Antequera town, visit one of Antequera's most impressive sights, the dolmens, located in a park to the west of the town. The most spectacular of these is the Cueva de la Menga. These megalithic mass tombs, made of huge slabs of rock, were created by the original Iberian people and date back 5,000 years. There are many such dolmens in Andalucí­a, but none as large as the Cueva de la Menga. When it was excavated in the nineteenth century, many hundreds of skeletons were found in its inner chamber. More>
Private walking tour in Antequera by Tours in Malaga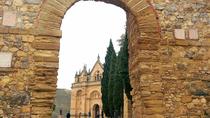 Private walking tour in Antequera by Tours in Malaga
Private walking tour in Antequera. Discover this magnificent and historical city with lots of religious monuments. Visit the citadel, the Roman baths, the collegiate and the main square. Considered the heart of Andalusia, Antequera was the borderline between Christian & Muslim territories in the middle age.

Destinations