Tivoli World Malaga
Tivoli World is the largest family entertainment theme park on the Costa del Sol. It is in the heart of Arroyo de la Miel, Benalmadena and is easily to reach by car, train, bus or taxi.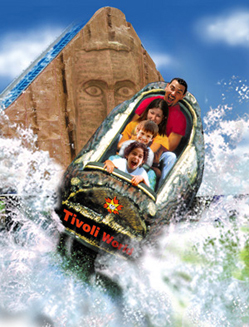 Family fun at Tivoli World.
The setting is a wonderful combination of tropical gardens, beautiful plazas, luminous fountains, exiting fair ground rides, theatres, restaurants and much more. There are over 300 rides and attractions. Some of the best Flamenco shows are held here and many important musical artists appear in concert every season. The fabulous outdoor theatre can seat up to 3,000 people and the atmosphere is often electric. For variety and as a contrast to the Spanish Flamenco theatre, there is also a fabulous Far West corner, where you enter the world of the cowboy can even find out your skills as a bucking bronco rider! Tivoliandia is a new section, which has recently been added to the Park, offering 11 rides for the youngest members of the family. So, from small children to grandparents, Tivoli World has something for everyone.
Artists and groups who regularly appear at the Tivoli Theatre are famous Spanish Singers, Rocia Jurado and Isabel Pantoja, as well at the Moscow Ballet Company.
Other type of shows you can expect, include: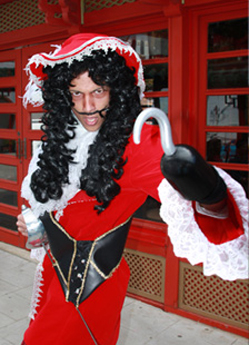 Tivoli World entertainer.
In the Plaza
Folklore Dancing, Flamenco Dancing and Classical Flamenco
In the Wild West Plaza
Circus, Wild West Show, Stars on Broadway and A night with the Moulin Rouge
In the Theatre
Teletubbies and Friends (Free), Golden Abba (6 Euros) and Elvis, the Legend (6 Euros)
Over 30 restaurants, bars and snack bars.
The warm summer evenings in this part of the world lend themselves to a totally enjoyable family afternoon or evening out, with enough to do to keep all ages mesmerized and happy for hours. Whether you go to see a specific show or music concert, or to let the children have fun on the Tunnel of Fear, Twister or Carrousel - or both, it's worth checking out the prices. Like in Disney, Tivoli World has its own currency in the form of 'Tivolinos'. Buying a blanket entrance ticket can be more economical than paying individual rides and entrance to some shows. (See prices below).
One of the rides not for the children is a thrill-seekers delight, a tower with a free fall of 60 metres! Another warning is to be sure you take some dry clothing for after the log flume if you are visiting in cooler months.
Opening Times Throughout the Year
March and April: Saturdays and Sundays 12.00 to 19.00 hrs.
Easter Thursday to Easter Sunday: 12:00 - 19:00 hrs.
May: Thursday to Sunday 12.30 to 19,30 hrs.
Lat May to Mid June: Thursday to Sunday 17.00 to 00:00 hrs.
Mid June end June: Daily 17.00 to 00:00 hrs.
July and August: Daily 18.00 to 01:00 hrs.
September to mid september: Daily 17.30 to 00:30 hrs.
Mid September to end October: Saturday and Sunday 12:00 - 19:00.
How to get there
By Car:
Take the exit number 222 from the main A-7 Autovia. There is ample parking.

By Train: Local train line (RENFE Cercanias) coming from Fuengirola or Malaga. Stop at Arroyo de la Miel station. Tivoli World is just 100 meters walk.

By Bus:
The Arroyo de la Miel-Benalmadena bus routes stop right at the entrance to Tivoli World. Lines M-103, M-112, M-121, M-124, M-125, M-126.

By Taxi: You only need to say Tivoli World, Arroyo de la Miel and the driver will know where to go. Phoning for a taxi: Radio Taxi, Benalmadena: 952 441 545 Radio Taxi, Torremolinos: 952 380 600. Radio Taxi, Fuengirola 952 471 000.

 
Prices
7,95 Euros (over 1.0m tall) Entrance to the gardens and walkways, some free shows and access to bars and restaurants.
22,95 Euros This is the price of the 'Supertivolino', which includes over 35 rides

There are also special group rates and lower prices for students and senior citizens. There are restrictions on height and age on some of the rides, with safety in mind.
Location
Avenida Tivoli, s/n 29632 Arroyo de la Miel, Benalmadena Tel. +34 952 577 016 / Fax +34 952 445 045
Destinations